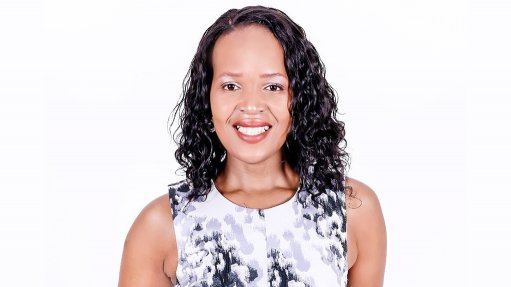 General Manager for Technology Security at MTN South Africa, Celia Mantshiyane
Photo by: Supplied
As the world moves increasingly into the virtual world, children and remote workers are becoming more vulnerable to new forms of attacks and online harm. These range from cyber bullying, sexual exploitation and grooming, to fraud and more "creative" forms of cyber-fraud, privacy invasion and theft.
Celia Mantshiyane, General Manager for Technology Security at MTN South Africa says the increased demand for digital services is here to stay, raising the stakes for all users to heighten their vigilance and take more proactive safety measures.
"Ask any parent, and one of the things keeping them awake at night is the risks and unknowns their children face every day in the cyberworld. This includes the dark web, and the strangers and dangers that live in the virtual shadows to prey on the most vulnerable."
Although always there, matters were worsened during the numerous Covid-19 lockdowns, with Unicef reporting that a lack of face-to-face contact with friends and partners led to heightened risk-taking such as sending sexualised images, while increased and unstructured time online exposed children to potentially harmful and violent content as well as greater risk of cyberbullying.
"Our children were suffering the most collateral damage of anyone during the crisis with Childline reporting a more than 36.8% increase in the calls received for help, compared to August 2019, and even now that restrictions are being lifted, they remain increasingly vulnerable," says Mantshiyane.
Add to this are other invasions of privacy and attempts by criminals to steal identities and other online information, like banking numbers, and something needs to be done.
The MTN Group has embarked on a major initiative to help limit these risks, starting with the dangers children are facing. It recently joined forces with the Internet Watch Foundation (IWF) Meta, ICMEC (the International Centre for Missing and Exploited Children) and Child Helpline International, with the support of the United Nations office on Drugs and Crime (UNODC), to launch the Help Children be Children campaign and the Child Safety Online Africa Portal.
"As an organisation committed to ensuring that the benefits of the digital world are accessible and safe for all users, especially those entering this space for the first time, we are raising public awareness of the impact of online abuse in all its forms and aim to help prevent its spread in South Africa, as well as across Africa," says Mantshiyane.
Crimes against children is, however, not the only threat we face. Cyber-security firm, Surfshark recently revealed that South Africa has ranked sixth in the world with cyber-crime density, rising from 11.8 cyber-crime victims per 1 million internet users in 2016 to 14.1 victims per 1 million in 2019, and 50.8/1 million users in 2020. Between 2018 and 2019, the number of breached users in South Africa increased by a striking 490%, an increase that may have led to the cybercrime growth in 2020, as breached data is often used to commit further crimes such as phishing, government impersonation scams, or identity theft; and once identities are stolen, banking details can be used to commit theft and fraud and entire home networks being taken over.
"There is no doubt all consumers and companies are more worried than ever about ID theft, sim fraud, phishing and new and advanced forms of hacking and privacy invasion," says Mantshiyane.
In the first 100 days of the lockdown huge increases were detected in spam attacks (up 46%), impersonation attacks (up 75%) and malware, which spiked by 385%. Recent statistics do not indicate that these attempts are going to slow down any time soon. According to Deloitte, most threats have intensified because of the opportunities that have arisen during and since the COVID-19 outbreak.
While increased vigilance is key, the reality is criminals are finding more creative ways to either take over identities, spam or infiltrate smart devices and home computers. The new hybrid working model, where many people alternate between home and office, or still work at home, is exacerbating the risks.
Deloitte, for instance, reported that cyberattacks on video conferencing services increased between February 2020 and May 2020, with more than half a million people affected by breaches in which the personal data of video conferencing services users (e.g., name, passwords, email addresses) was stolen and sold on the dark web.
"Criminals have realised that some of the remote security at home is not good, and so they have embarked on concerted attacks into these weaker networks," says Mantshiyane.
Upgrade Security, Use Stronger Passwords
One way in which users can protect their computer and smart devices is with strong, up-to-date security software, and password-protecting devices. Passwords should also be deliberately strong and/or complicated, as if the device falls into the wrong hands, email, financial accounts and other private data stored on the phone will be easily accessible. Password managers and two-factor authentication (2FA) are seen as best practices for password management.
Awareness and vigilance is then key, to stop further infiltration.
Some ways criminals are attacking identities include:
False information on credit reports, including identity number, address(es), name or employer's name.
Missing invoices, statements or other mail. If statements don't arrive or come late, consumer should contact their creditors. A missing statement may indicate that an ID thief has re-routed an account and changed a billing address to help hide the crime.
Receiving new credit cards that were not applied for.
Having a credit approval denied or being subjected to high-interest rates for no apparent reason.
Receiving calls or notices about past due bills for products or services that consumers are unaware of.
"Though some scams are easy to identify, other attempts in emails, via social media or websites can look very legitimate, cautions Mantshiyane, emphasising that users should "think before they click" by looking for more than only one or two signs of legitimacy.
"Instead of using the link provided in a mail, you could for instance search for the website to make sure it is not fake. Cyber-criminals may also pose as a bank, credit card company or mobile operator employee over the phone, but no legitimate organisation will call and ask you for personal information - like a bank or credit card PIN number or a One-Time Pin," she adds.
MTN continues to support its customers through the implementation of several key controls, including customer security questions by default.
Stricter measures are used to help detect SIM swap fraud. For instance, if an old SIM card is not working or not available, post-paid transactions can only be performed in-store. Where the old SIM card is available, a SIM swap can be done through the USSD Channel but will also start in-store as a post-paid SIM needs to be purchased in person for identity verification.
Other tips to stay safe online
Monitor and review credit: Due to increased attacks targeting financial products, it is important to closely monitor profiles for new accounts, credit cards, loans or other transactions.
Protective registration: If an ID book or passport is misplaced or stolen, this should be registered with www.safps.org.za. The details will be entered into their database to inform their members that the identity has been compromised and that they should take additional care when confirming said identity.
Using AI, customer validation and eligibility to help detect fraud early: Intelligent fraud management solutions entail fraud detection, investigation and prevention in real or near real-time. Machine-learning models are, for instance, being rolled out to trace behavioural patterns of requesters to detect potential fraud. Artificial intelligence systems use location, device and spatial patterns to red flag potential fraud.
"MTN, is committed to ensuring users enjoy the benefits of the modern, online world free from harm. We are therefore increasing our efforts to help people avoid becoming victims. We will continue to drive safe, responsible use and appropriate online experience for children, while providing greater levels of cyber security, protection and awareness for all. By working together, we can stay a step ahead of the criminals," concludes Mantshiyane.
Issued by MTN