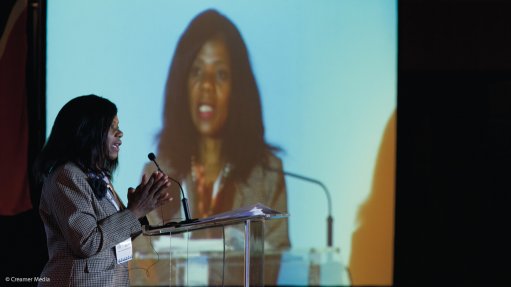 Law Trust Chair in Social Justice and law professor at Stellenbosch University Professor Thuli Madonsela
Photo by: Creamer Media
Law trust chair in social justice and law professor at Stellenbosch University Professor Thuli Madonsela on Thursday said that the dialogue to handle immigration in manner that is socially just and anchored in shared humanity or Ubuntu remains a challenge in the country.
Madonsela was speaking during an expert roundtable on Social Justice, Economic Inclusion and Immigration, organised by Stellenbosch University, where she said the divorce between social justices and the handling of immigration have been seen to influence politics all over the world.
Immigrants are being blamed for social strife, particularly an inadequacy of work opportunities, economic opportunities and security challenges.
Madonsela said the roundtable takes place at a time when the issue of immigration, as part of globalisation, has become a hugely divisive issue, with politicians mining it and ordinary citizens scrambling for resources, which causes social conflict to increase.
"Here in our country we have seen businesses owned by migrants attacked. We have seen local businesses that hire immigrants being challenged. And at the lowest point immigrants were burnt as part of this contestation of resources in shared space," she pointed out.
Meanwhile, the Department of Home Affairs chief director on policy and strategic management Sihle Mthiyane noted that the asylum seeker regime is being abused by economic migrants and this results in over 90% of the claims for asylum being rejected.
Mthiyane explained that with these high demands being placed on the asylum seeker and refugee regime, the country's ability to provide protection services to migrants in need of it is compromised.
"Most applicants are economic migrants who claim asylum to buy time in order to work, study and establish businesses in the country. Other irregular migrants stay illegally in South Africa without claiming asylum, with many seeking to regularise their stay through fraud and corruption," he said.
He noted that South Africa is a product of historical flows of migrants from Southern Africa.
The South African economy still remains much bigger than the other countries in Gross Domestic Product (GDP) terms. SA's GDP per capita is five to seven times than that of the rest of the Southern African Development Community (SADC) region, he said.
For humanitarian, constitutional and practical reasons, South Africa has avoided encampment either for asylum seekers or for refugees, Mthiyane said.
"While the policy of non-encampment can be fully justified there, was no provision made for providing indigent asylum seekers with basic food and accommodation," he noted.
He added that South Africa ratified the 1951 Convention and 1967 Protocol relating to the status of refugees without reservations, saying this makes it very difficult to limit the movement of asylum seekers, including those that pose security threats to the country.