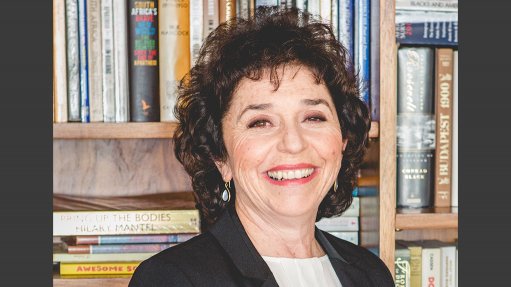 Centre for Development and Enterprise executive director Ann Bernstein
ANC politics aside, Ramaphosa must use this moment to boldly stamp his authority on the government, writes Ann Bernstein.
'The threat to our democracy remains present and real." President Cyril Ramaphosa, in making this statement, was referring to the traitors who organised the insurrection and lit the fuse for the looting and mayhem of the past few weeks and whose leaders have not yet been identified, arrested and charged.
But we all know that SA cannot go on as we are: the world's deepest unemployment rate, stagnant economy, growing fiscal crisis, a collapsing state, skilled people and investors leaving, a society with little hope for the future. A country without a compelling story of how we will rebuild and construct a more inclusive, prosperous society.
The so-called "long game" has failed. We were told that speedy and bold changes were not politically possible within a divided ANC. Perhaps the biggest failure of the long game is that it seems to have profoundly underestimated the malign forces threatened by the "new dawn".
Investigation into the loyalty and effectiveness of the security cluster should have been undertaken after the allegations of the 2018 Mufamadi review of the State Security Agency, but the president appointed a commission into this only after shocking revelations at the Zondo commission this year.
Now the president has admitted that the government was "poorly prepared" and "did not have the capabilities and plans in place to respond swiftly and decisively".
The weakness at the top of the security cluster has allowed – through a combination of incompetence, corruption and complicity – the terrible genie of social chaos to re-emerge.
It is significant that the president has insisted that this was an insurrection. He needs therefore to act decisively to deal with the mutineers. Of course, social conditions helped fuel the chaos, but it is vital that the government protect the constitutional order from its enemies. Whoever they are.
Including those in bed or flirting with the radical economic transformation faction. If he doesn't, they will regroup and continue to put a brake on reform or worse.
Why is South African politics – and its president – so deadlocked, so dangerous? There are many reasons for this. The most important is the government's failure to create the conditions needed for faster and more inclusive (more employment-intensive) economic growth. This is by far our greatest failure over the past 15 years, and the kindling-dry social conditions that drove the looting and chaos are its most significant consequence.
The bulk of the responsibility for this lies, of course, with Estcourt prison's newest resident, but Ramaphosa has not covered himself in glory in pursuit of the fundamental reforms needed to secure faster growth and more jobs. His government is characterised by drift, incoherence, incompetence, inattention and complacency. These are choices – and failures to make choices – that are Ramaphosa's, and he needs to accept responsibility for his government's failure to achieve results.
Of course, the current political and social base for significant reform is fractured in numerous ways. But there is a growing sense in the society, enhanced by events of the past weeks, that we need to find new ways of working together.
The vast majority of South Africans are committed to the constitution, a prosperous nation, redistribution of taxes, services and opportunities and true empowerment through employment and quality education. The president could act now to build on this emerging coalition around growth and inclusion.
A reforming president must lead. The endless talk of compacts should be seen for what it is – a failure to lead and drive a new approach to building our economy and broken society. Reformers need to take on the vested interests in a deteriorating status quo and deliver results with speed to build new constituencies of support.
The time has come for many in business to stop cheerleading the president or offering "band aids" but to say – loudly – that it is only possible to help turn SA around if a new approach is adopted.
One clear priority is to expand the social base of support for meaningful economic reform that could help stimulate faster economic growth. Far too little work has been done to make the case for why reforms are needed, why those who oppose reforms are wrong to do so, and what the benefits of those reforms would be. The result: it is all too easy for those who resist proposals for changes to present that resistance as progressive, when, in many cases, it is the opposite.
Here, the failure is not the president's alone. The Centre for Development and Enterprise has long argued that business has failed to make a sufficiently compelling case for why growth – and, by extension, growth and job-enhancing reform – is good for everyone, not just big companies.
In this time of multiplying crises, SA needs a cabinet, senior officials, heads of state companies and institutions that comprise the very best the country can offer. The president has to look beyond the ANC if he is to deliver.
The president requires a vastly more competent, senior team around him. To achieve the growth, jobs, services, new opportunities, better schooling and skills the country's citizens desperately need, we require an executive of leaders – competent people with experience in building teams that deliver, committed to market-oriented economic reform, to the constitution and seized with the urgency of achieving results.
Special interventions will be needed to address the post-looting situation in KwaZulu-Natal and Gauteng: money for desperate households and infrastructure for commerce to recommence. Reconstruction must not be hobbled by long-standing local mafias. Public spending will have to increase.
In these circumstances the government should withdraw the offer to public sector unions for a non-pensionable gratuity that could add R15bn-R20bn to this year's wage bill. Poverty relief and reconstruction have a much stronger claim now.
The president and a new team must build a different narrative – a new and believable story about a country determined to come together, vaccinate everyone, incarcerate the crooks and insurrectionists, re-establish the rule of law and through using all the country's remarkable talent, rebuild. Reformers must dominate the national debate.
We have to show that democracy works. That there is hope and a future for everyone, especially the unemployed and the poor, if we pull together. The "long game" – if it was ever a compelling option – is too long for a society in crisis.
Written by Ann Bernstein, executive director of the Centre for Development and Enterprise
Article first published by the Sunday Times