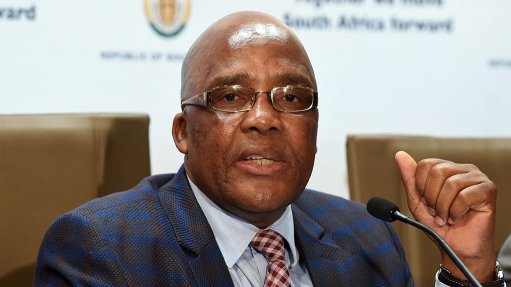 Home Affairs Minister Aaron Motsoaledi
Photo by: Govt
Home Affairs Minister Aaron Motsoaledi said on Monday that the Department of Home Affairs (DHA) has obtained legal advice that there were strong legal grounds to revoke the passport of Facebook rapist Thabo Bester's partner Dr Nandipha Magudumana.
Motsoaledi told media that the DHA director-general will be taking steps in terms of the South African Passports and Travel Documents Act to revoke the passport issued to Magudumana in 2017.
On Saturday, Magudumana filed an urgent court application in the Free State High Court, to declare her arrest and subsequent detention unlawful.
Magudumana and Bester, with their alleged Mozambican accomplice, were arrested in Tanzania on April 7, after which they were returned to South Africa on April 13, following joint efforts by Interpol and the police's Crime Intelligence Unit.
Court papers go as far as labelling Magudumana as having been "abducted" in reference to her arrest.
She is facing 12 charges linked to Bester's escape from the Mangaung prison in May last year.
Magudumana wants the court to free her immediately.
"I need to explain this, you are aware that in Tanzania, three passports were found on the person of Dr Magudumana, two of the passports belong to Dr Mmereka Patience Martha Ntshani and one of the passports belonged to Dr Nandipha Magudumana. Now this is the passport we are talking about, we said on the April 14 that it is valid and it is a legitimate passport and it is due to expire in 2027. This is the passport we are revoking in terms of the law because she no longer deserves to be have it.
"[The director-general] was shocked to discover that the DHA and I were not cited as respondents in that matter. This is despite the fact on May 15, 2023, there was exchange of correspondence between the director-general and Motloung INC attorneys of record for Dr Nandipha Magudumana," Motsoaledi explained.
He said on Sunday the director-general immediately addressed a letter to Magudumana's attorneys raising objection to the non-joinder of the DHA and himself, demanding that the "ill-advised application" be removed from the urgent roll.
The letter corrected the wrong stance adopted that Magudumana was unlawfully "abducted" or "extradited" from the United Republic of Tanzania, he said.
He went on to explain that Magudumana and Bester were declared prohibited immigrants in terms of the immigration laws of Tanzania and were therefore, as a matter of law, liable to be deported back to their country of origin.
"The same procedure was followed in respect of the Mozambican national who was in their company. The said letter was circulated to all the parties in the court proceedings in Bloemfontein," he said.
Motsoaledi noted that the Identification Act outlines conditions under which a passport may be revoked, with one of the conditions clearly stating that if the person has been deposited and has been brought to the country at the expense of the State, his or her Identification or passport may be revoked.
"You are aware that we had to hire that chartered flight for R1.4-million at our expense and the law is very clear in that regard; if that is the case then we have got the right to revoke that passport," he said.
Meanwhile, Motsoaledi announced that Bester was issued with an identity card on 17 May 2017, explaining that his name has now been entered into the National Population Register, thus ending many years of his status as an unidentifiable person. The birth certificate was issued to him on May 15.