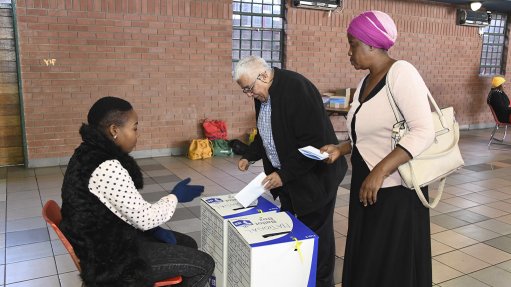 The Portfolio Committee on Home Affairs was on Friday briefed by the Electoral Commission of South Africa (IEC) on the report of the former Deputy Chief Justice Dikgang Moseneke inquiry on the possible postponement of the local government elections.
The commission briefed the committee on the recommendations of the Justice Moseneke Inquiry on Free and Fair Local Government Elections During Covid-19 pandemic.
In his report to the IEC, former Deputy Chief Justice Dikgang Moseneke recommends that the elections be deferred to a date not later than the end of February next year, with the expectation that the country would have vaccinated the required population numbers in order to acquire herd immunity.
However, the IEC told the committee that this development presents an unprecedented and extraordinary situation and carries uncharted constitutional consequences.
The commission said there was no legal or constitutional provision that enables elections to be postponed, and the IEC does not have such powers.
The Moseneke inquiry has recommended two possibilities in order to action the postponement of the local government elections, and one is an amendment of the Constitution which will require a 75% support in the National Assembly and a support of at least six provinces in the National Council of Provinces. The second possibility is for the commission to approach a court of competent jurisdiction to provide guidance on the matter.
The IEC believes this is a short-term challenge and should not easily lead to the amendment of the Constitution, and also given the time frames, it would be impractical to embark on a process to amend the Constitution.
The commission plans to launch an application with the Constitutional Court on this matter.
The portfolio committee has commended the IEC for initiating the inquiry to investigate the feasibility of holding free and fair elections during the Covid-19 pandemic.
"The committee notes the report and will monitor the process the IEC is going to take with the Constitutional Court, and post that we will invite the IEC for further engagements," said Acting Chairperson of the committee, Mr Mosa Chabane.
Issued by the Parliamentary Communication Services on behalf of the Acting chairperson of the Portfolio Committee on Home Affairs