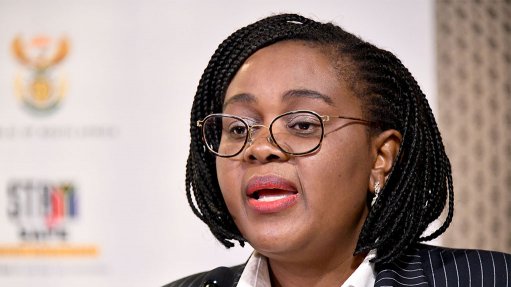 Acting Health Minister Mmamoloko Kubayi-Ngubane
Acting Health Minister Mmamoloko Kubayi-Ngubane announced on Friday that South Africans aged between 50 and 59 years can register for the Covid-19 vaccine from July 1, with vaccinations for this age group scheduled to begin July 15.
South Africa is battling a third wave of the pandemic, with Gauteng driving the surge in infections. The province recorded 9 521 new cases in 24 hours, accounting for 59% of the cases nationally.
Kubayi-Ngubane said part of government's surge response is accelerating the vaccine rollout.
Pfizer has delivered almost 4.5-million vaccine doses, with a further 2.1-million expected in July.
1.2-million doses of the one-shot Johnson & Johnson vaccine arrived in the country on Thursday and will need to be used by August 11.
"We are awaiting confirmation for delivery of 500 000 doses (these expire later than the previous doses mentioned) and this then makes up the two-million to replace those that were lost to the contamination incident. With this flow of vaccines, we will be able to press ahead with the vaccination of frontline workers sector by sector," she said.
Workplace vaccinations will be government's next target area and this includes the taxi industry.
However, the Covid-19 Ministerial Advisory Committee will provide guidance on prioritising sectors.
Over two-million vaccines have so far been rolled out.
The vaccination being rolled out in the education sector has pushed the daily national vaccination numbers beyond 100 000 a day and Kubayi-Ngubane is confident the country will reach the 300 000 daily mark set by President Cyril Ramaphosa.
Vaccine roll-outs for educators in the early childhood development sector and the post-schooling system will soon take place.
Kubayi-Ngubane explained that the sector operates differently from basic education and it was not practically possible to include them as part of the basic education sector programme.
Meanwhile, there are concerns that the demand from those aged 60 and more is reducing exponentially.
"As a group that is most at risk, we cannot give up on netting the vast majority of this group. We understand that this manifestation is a combination of high vaccine hesitancy in this group and difficulty accessing the technology to register, as well as the vaccination centres," she explained.
Plans are underway to take vaccines to people that are unable to access them.
Kubayi-Ngubane begged South Africans to join government and the health care workers in the fight against Covid-19.
"The virus is still with us and there always comes a point in a crisis where each and every person has to take control and choose to win. We have always been a resilient nation - we defeated colonialism, we defeated apartheid and we can defeat Covid-19. We must protect our lives and livelihoods together," she stated.