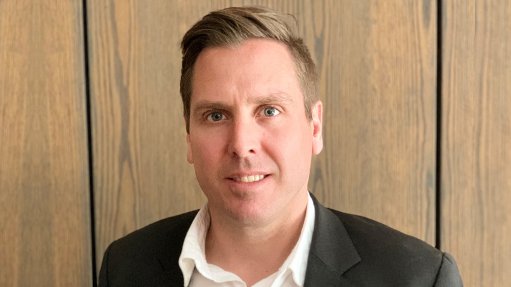 Harmony Gold investor relations head Jared Coetzer.
JOHANNESBURG (miningweekly.com) – Harmony Gold is at a very exciting point as it pivots in a new portfolio-enhancing direction and sheds costs at the same time, says Harmony investor relations head Jared Coetzer.
"That little paragraph that we came up with about re-engineering our portfolio and deleveraging our balance sheet to create optionality. That's exactly what we're doing, summarised in one sentence," says Coetzer, who spoke to Mining Weekly in a Zoom interview.
While conceding that the JSE- and NYSE-listed gold mining company's cost base has been on the high side relative to other global miners, he points out that the strategy being executed involves driving down all-in sustaining costs while elevating the portfolio of assets at the same time.
Harmony, which produced 1.54-million ounces of gold in financial year 2021 (FY21), is headed by highly experienced CEO Peter Steenkamp. The company has nine underground mines and one opencast mine in South Africa, and one opencast mine in Papua New Guinea, where it also holds 50% of a copper/gold project in joint venture with Newcrest Mining.
Harmony's FY21 production profit of R12-billion was 66% up on the R7.2-billion of FY20.
"We've taken the decision to invest in our own assets," says Coetzer.
With life-of-mine approaching termination point at Harmony's Masimong, Bambanani, Kusasalethu and Hidden Valley operations, R6-billion-plus is poised to come off costs in the next three years, as Harmony also begins to advance its high-grade Tshepong and Moab Khotsong/Zaaiplaats developments.
If everything goes to plan, costs will have lowered to below R700 000/kg in real terms by financial year 2024 (FY24).
"That's a story which is very powerful," says Coetzer.
Harmony received a gold price of R851 045/kg in FY21.
The assets that Harmony has acquired from AngloGold Ashanti have moved the company up the quality and grade trajectory, regardless of how things turn out at Wafi-Golpu, the Papua New Guinea copper/gold project in which Harmony has a 50% shareholding in joint venture with Newcrest and which has reserves estimated at 20-million ounces of gold.
The best and quickest return on investment will likely be from the extension of the large Kareerand tailings facility at Mine Waste Solutions, cash flow from which will also help to fund the project.
ZAAIPLAATS PROJECT
The Zaaiplaats project will take mining 400 m deeper into an area where payshoots have been exceedingly well studied and the grades are high.
Moreover, inefficiencies at the existing middle mine have been targeted for removal as Harmony builds the Zaaiplaats extension.
"We're going with a triple decline and I think the big challenge is to make sure that there's not a prolonged period of reduced production as mining extends from the existing middle mine to the new Zaaiplaats mine," says Coetzer.
"The upside is that we can actually develop those declines quicker than what we've got on our plan and Peter sees a realistic chance of doing that.
"At 9 g/t, the all-in sustaining costs at Zaaiplaats are around $1 090/oz or R512 000/kg. You're not going to find a project like that anywhere in the world – and certainly not at the price at which we got it. It's been paid for. The development is obviously going to be costly but it will be funded from the existing operations," says Coetzer.
Mine life is extended by 24 years, there is existing operational leverage and costs will be recapitalised, which is tax positive.
"There are just so many benefits," says Coetzer, who concedes that ventilation and energy costs will rise along with the additional depth.
"We understand those costs well and we've never shied away from that and one of the important messages that Peter is continually driving home is that our stakeholder relations are better than they've been in a long time.
"Evidence was the wage negotiations. To have all five unions come to the party simultaneously is a phenomenal result. We've managed to put our people first and we got to a result that everyone was very happy with.
"We're very comfortable in South Africa and I think that's something that we have to emphasise when investors speak to us. The projects we've discussed are hugely value accretive. We're set up to pivot to a whole new direction. We're at a very, very exciting point in our life as a major mining company," Coetzer enthused.