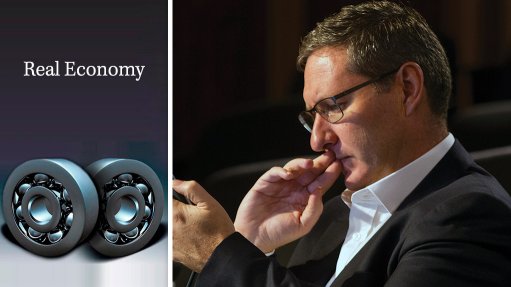 The narrative in South Africa about the possible implications of the UK leaving the European Union (EU) has focused mainly on the possible additional market-access opportunities, particularly for South African agricultural products. Far less attention has been given to the economic implications of a protracted and acrimonious separation process.
This potential downside was highlighted, however, by British economist Professor Peter Sinclair during a recent lecture hosted by the University of the Witwatersrand's School of Economic and Business Sciences.
Sinclair warned that a so-called "hard Brexit" could have serious negative spillover consequences for South Africa, owing to the country's strong economic ties with the UK, as well as several countries in the EU that could be negatively affected by such an outcome.
The monetary policy and international economics expert, who was in South Africa to consult to the South African Reserve Bank, gave odds of less than 50% on the likelihood of a "soft Brexit", which would leave the UK's relationship with the EU as close as possible to the existing arrangements.
Instead, Sinclair anticipated that "complicated negotiations" were more likely to yield a "hard Brexit", which could result in the UK falling back on World Trade Organisation (WTO) rules for trade with its former EU partners.
Part of his pessimism arose from the composition of Brexit negotiation teams, led in the UK by Brexit Secretary David Davis and by Michel Barnier, of France, for the European Commission. Sinclair anticipated that the relationship could easily fray, given the hard-nosed natures of both men.
Barnier and his 120-strong negotiating team were likely to hold firm to the demand that the UK make a financial settlement before substantive trade negotiations could proceed. A figure of €100-billion has already been mooted.
For his part, Davis, a former soldier, is expected to push for assurances on retaining the City of London's status as a financial centre and for safeguarding access for UK products such as automotives, aviation systems and pharmaceuticals.
However, Sinclair stressed that the danger for Britain lay not only in the introduction of tariffs. He also feared that nontariff "blockages to trade" could be engineered to frustrate trade relations.
By way of example, Sinclair highlighted the 1980s example where, in its determination to protect the video tape recording market from Japanese imports, France established a customs inspectorate in the inland city of Poitiers, which became a major bottleneck and dramatically reduced imports from Japan.
"If it's a hard Brexit, it will hit Britain very hard and will also hit the economy of Europe, albeit unevenly," he argued, warning that the worst-case scenario was that as much as 9% of Britain's gross domestic product would be lost.
"Brexit is potentially damaging for South Africa, because there are strong economic and investment ties between South Africa and Britain. If Britain is hit for a six, this relationship will also be affected. There is a feedback effect."