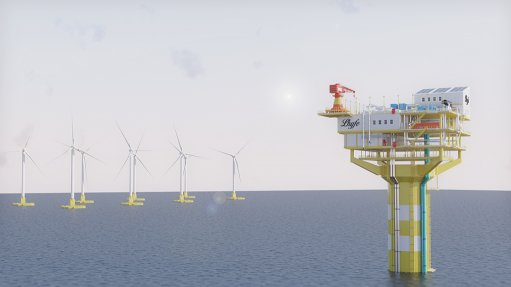 Lhyfe producing green hydrogen at sea.
JOHANNESBURG (miningweekly.com) – The world's first offshore green hydrogen production demonstrator platform has been positioned offshore of France.
"This is the first time that renewable hydrogen will be produced at sea," French company Lhyfe stated in a release to Engineering News & Mining Weekly. (Also watch attached Creamer Media video.)
The platform, which has capacity to produce up to 400 kg of renewable green hydrogen a day, equivalent to 1 MW of power, is seen as paving the way for a new energy paradigm awaited worldwide.
Offshore wind turbines have the potential to allow all countries with a coastline, including South Africa, to access renewable green hydrogen for transport and industry decarbonisation.
By 2030-2035, offshore could represent an additional installed capacity of around 3 GW for Lhyfe alone.
The electrolyser was supplied and optimised for the exceptional offshore operating conditions by US proton exchange membrane (PEM) electrolysers supplier Plug Power. The platinum-using PEM electrolyser is the first capable of operating on a floating platform.
Through this pilot site, Lhyfe will produce the first kilograms of renewable green hydrogen at quay and then sea, operating automatically, in the most extreme conditions.
The bar has been set high with the installation of the production unit on a floating platform that is connected to a floating wind turbine.
Five-year-old Lhyfe, which already produces and supplies green hydrogen for mobility and industry, is convinced of the central role offshore has to play in renewable green hydrogen production.
The listed company inaugurated the world's first site for the production of hydrogen from onshore wind turbines in September 2021, and is currently preparing to deploy its solutions Europe-wide.
The Sealhyfe platform is targeting:
performing all stages of hydrogen production at sea, i.e. converting the electrical voltage from the floating wind turbine, pumping, desalinating and purifying seawater, and breaking the water molecules through electrolysis to obtain renewable green hydrogen;
managing the effects on the system of the platform's motion, including list, accelerations, and swinging movements;
enduring the environmental stress of premature ageing through corrosion, impacts, and temperature variations; and
operating in an isolated environment, fully automatically, without the physical intervention of an operator, except for scheduled maintenance periods which have been optimally integrated from the design phase.
To achieve this technological feat, Lhyfe has relied on the Sem-Rev offshore testing site, with the production unit being installed on the Wavegem wave energy platform developed by Geps Techno.
At the end of the quayside test phase, the Sealhyfe platform will integrate the Sem-Rev offshore testing area, off the coast of Le Croisic, about 20 km from the coast.
The device will then be supplied with electricity by the pioneering floating wind turbine installed within the offshore test site in 2018.
Chantiers de l'atlantique has enhanced the resilience of the system to environmental stress, ventilation systems and the electrical architecture of the system, and Geps Techno and Eiffage Energie Systèmes has provided the system's integration on a platform and the naval architecture of the latte, specifically for the particularly stormy sea conditions of the site.
The Port of Saint-Nazaire has facilitated Sealhyfe's assembly and testing, and Kraken Subsea Solutions has participated in the design of the underwater electrical connection to the renewable marine energies produced on the Sem-Rev platform.
A first six-month trial phase is being started at quay, in the Port of Saint-Nazaire, to obtain initial reference measurements and test all of the systems, including desalination and cooling systems, stack behaviour, remote control, energy management, resistance to environmental conditions, etc.
At the end of this first stage, Sealhyfe will spend a period of 12 months off the Atlantic coast. It will be installed less than a kilometre from the floating wind turbine, fixed to the ground by a system of anchors and connected to the site's underwater hub using an umbilical designed and dedicated for this application's energy and data transfer.
At the end of this trial, Lhyfe will have a substantial volume of data, which should allow it to design mature offshore production systems, and to deploy robust and proven technologies on a large scale, in keeping with the European Union's (EU's) objective to produce ten-million tonnes a year of green hydrogen by 2030.
Sealhyfe has had support from the French energy and environment agency ADEME and the Pays de la Loire Region.
Lhyfe founder chairperson and CEO Matthieu Guesné expressed determination in taking up the major technological challenge of proving that producing hydrogen at sea for the first time is possible as of today.
He pointed out that by paving the way for the mass production of renewable hydrogen at sea, Sealhyfe is in line with the EU's strategy to deploy an offshore hydrogen chain, and wishes to help build the energy sovereignty of countries.
Lhyfe, as a member of France Hydrogène and of Hydrogen Europe, currently has a commercial pipeline representing a total production capacity of 9.8 GW by 2030.
Lhyfe technical director Thomas Créach responded to these questions put by Mining Weekly in a pre-launch online Zoom interview:
Mining Weekly: When, where, how and why will you be generating green hydrogen at sea?
Créach: Lhyfe is a hydrogen producer so our main goal is to have green hydrogen everywhere in Europe, as soon as possible. We already have green hydrogen production sites onshore, and already today, we are able to produce green hydrogen. Doing so offshore as well will enable us to produce the large quantities that are required. But right now it is important to prove that it is feasible and that's why we're inaugurating the first offshore production platform, which will be able to produce more than 400 kg of hydrogen a day offshore. It will be on the west coast of France, where there already is a floating wind turbine and barge. We will integrate all the hydrogen process directly on this barge, which will be connected to the floating wind turbine already in place and we'll be producing offshore in the coming days.
Is there a very big wind potential?
Where we are situated has very substantial wind potential, which is also the case everywhere in Europe, where a huge rollout of 1 GW of wind power generation by 2040 is under way. For that to be effective, the wind farm also has to be connected to hydrogen. What we will prove is that it is feasible to have a production site offshore directly connected to a wind farm and to do the same in other parts of Europe, in the North Sea and in the Baltic Sea.
What are the advantages of being on the ocean?
The goal of Lhyfe is to produce hydrogen with renewable energy resources, and large quantities of renewable resources are needed. Offshore comparted with onshore, you have wind farms that are more powerful. The size of the offshore wind farm is between 20 and 50 the size of onshore wind farms.
How will the hydrogen be transported to market?
We'll offload all this hydrogen mainly by pipe between the production site offshore and onshore. Once onshore, we'll develop our different offtakers.
Have offtake arrangements been made for the green hydrogen produced?
Lhyfe already has green production sites everywhere in Europe, meaning that we are already talking with all the different offtakers on mobility sites and industrial sites, industry sites including the steel, ammonia and glass industry sites. We already sell green hydrogen to these different offtakers. All the offtakers are already secured for all our offshore business.
In what forms will the hydrogen be moved?
It will be moved both as green ammonia and as gas.
What is the global potential for the generation of green hydrogen on offshore platforms at sea?
The potential production of green hydrogen offshore is more than 18 times the energy demand from onshore today. At sea, you have huge capacity for energy production. Lhyfe expects to have 3 GW more offshore production sites by 2030.
What should be the biggest takeaway from this interview?
I think that we can act today to mitigate climate change. We need to do it and what we want to show through this production site that it is feasible to generate massive volumes of green hydrogen offshore and we need this massive production to be able to combat climate changes. The world needs to decarbonise and to do so it needs massive green hydrogen production sites. We have already shown that it is feasible onshore and now we'll show that it's also feasible offshore at massive scale. What we want to show is that it can be done today. We don't have to dream of something that will come tomorrow. It's feasible today. Climate change action is not something for tomorrow. It's something that we can do today through green energy production onshore but also offshore.