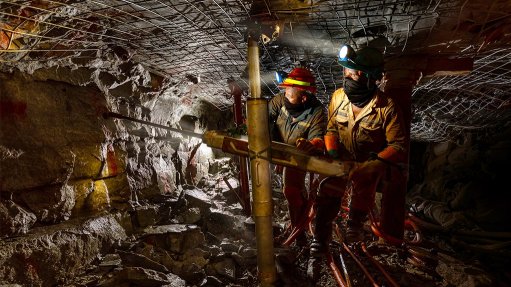 Underground drilling under way at Harmony's Great Noligwa gold mine.
JOHANNESBURG (miningweekly.com) – Despite the ongoing electricity shortages and supply chain disruptions, the total gold production of Harmony Gold has increased quarter-on-quarter, the Johannesburg- and New York-listed company, which will be presenting at next week's Investing in African Mining Indaba in Cape Town, stated on Wednesday.
The quarter-on-quarter production increase was ascribed mainly to improved underground recovered grades mined during the second quarter of Harmony's financial year 2023, which were higher than the 5.45 g/t to 5.60 g/t guided earlier this year. Underground recovered grade guidance for the full year remains at between 5.45 g/t and 5.60 g/t, however.
Production guidance for the full financial year 2023 remains at from 1 400 000 oz to 1 500 000 oz, with all-in-sustaining costs forecast to be below R900 000/kg, as has been achieved in the six months to December 31.
The 47 000-employee Harmony, which has nine underground mines, one openpit mine and several surface operations in South Africa, is this country's largest gold producer by volume.
Outside of South Africa, it mines in Papua New Guinea, where it is also developing the Wafi-Golpu gold/copper project, and last year acquired Eva Copper in Australia, where feasibility studies are underway into what is a fully-permitted, near-term copper/gold project in northern Queensland.
EXPANSION OF TAILINGS FACILITY
Meanwhile, all the necessary permits and approvals have been received for the expansion of the Kareerand tailings storage facility at Mine Waste Solutions, a low-risk, low-cost surface operation, near Stilfontein, in North West province, which is expected to produce about 100 000 oz/y of gold and add 16 years of mine life to the operation.
COPPER PROSPECTS
Following the conclusion of the Eva transaction in December, feasibility studies are underway into this fully-permitted, near-term copper/gold project in Northern Queensland, Australia, which is fully permitted, with the results of the studies expected within 12 months. Alongside Wafi-Golpu, Eva Copper introduces the prospect of near-term copper into the portfolio.
NEW APPOINTMENTS, TWO VACANCIES
With immediate effect, Harmony's South Africa and Southeast Asia operational executive teams have been restructured as regional executive management teams under the leadership of Beyers Nel as group chief operating officer operations. From 2016 Nel held the position of chief operating officer of the South African operations.
In addition, a process is under way to recruit two regional executive operating officers covering South Africa and Southeast Asia, who who will report to Nel, and the new business development and growth function has been strengthened under the leadership of Johannes Van Heerden as group chief operating officer of business development and growth.
Van Heerden, who joined Harmony in 1998 and who has been chief executive officer Southeast Asia since 2008, is now dedicated fully to business development and growth, with focus areas including leading Eva Copper into development, progressing Wafi-Golpu, and pursuing further growth opportunities in Africa, Southeast Asia and Australia.