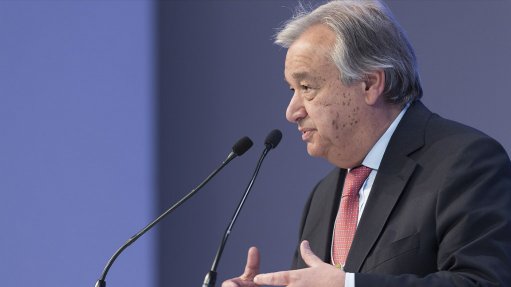 United Nations secretary general Antonio Guterres
Following President Cyril Ramaphosa's announcement of a peace mission by African heads of State aimed at resolving the Russia-Ukraine conflict, the South African government has said the mission is supported by United Nations (UN) secretary general Antonio Guterres.
The South African government is calling for urgent international collaboration for a cessation of hostilities and to prevent further loss of life and displacement of civilians in Ukraine.
An international armed conflict has existed between the two countries since Russia invaded the Crimean peninsula in 2014.
South Africa says the international community, working together with multilateral bodies such as the UN, needs to support meaningful dialogue for peace, and the security and stability of all nations.
Ramaphosa said the peace mission was presented to Russian President Vladimir Putin and Ukrainian President Volodymyr Zelenskyy during separate telephone calls on behalf of African Heads of State from Zambia, Senegal, Congo, Uganda, Egypt and South Africa.
Government says it is encouraged by the manner in which the two leaders from Russia and the Ukraine welcomed the initiative and their immediate consent to receiving the African Heads of State, in Moscow and Kiev.
"The principal focus of the mission is to find a peaceful resolution to the devastating conflict in the Ukraine with its cost to human lives and impact on the African continent," the South African government says.
It is concerned about the effects of the conflict on Africa's increasing food insecurity, as seen in the rising costs of grain and fertilisers.
Government affirmed South Africa's commitment to the articles of the UN Charter, including the principle that all members shall settle their international disputes by peaceful means.