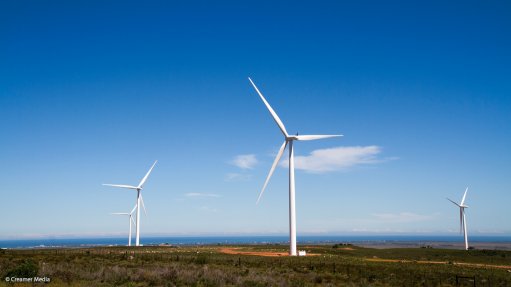 Photo by: Creamer Media
A new international stock-take of the global transition to renewable energy highlights an "alarming gap between targets and actions" with the share of fossil fuels in energy consumption failing to decrease for the tenth consecutive year in 2020, despite a 4% Covid-linked fall in demand.
Published by REN21, the 'Renewables 2021 Global Status Report' shows that modern renewable energy (excluding the traditional use of biomass) accounted for an estimated 11.2% of total final energy consumption (TFEC), up from 8.7% a decade earlier.
However, at 80.2%, the share of fossil fuels in TFEC remained in line with where they were a decade ago.
The report attributes the modest gains made by renewables to a combination of rising global energy demand, continuing consumption of and investment in new fossil fuels and a fall in the declining traditional use of biomass, which although positive, has led to a shift towards modern sources of energy, much of which is derived from fossil fuels.
"Even as global emissions decreased in 2020, the concentration of carbon dioxide in the atmosphere continued to rise to record levels, highlighting that a structural shift is necessary to reach long-term climate targets," the reports asserts.
It also notes that, despite the lockdowns and drop in economic activity, no lasting dent was made in 2020 to global emissions, which had rebounded strongly by the year's end and rose in December to levels that were 2% higher than the prior year.
"We are waking up to the bitter reality that the climate policy promises over the past ten years have mostly been empty words," REN21 executive director Rana Adib lamented. "The share of fossil fuels in final energy consumption has not moved by an inch."
Nevertheless, the report does highlight that, despite Covid, renewable energy was the only source of electricity generation to register a net increase in total capacity in 2020, with record deployments of 256 GW, surpassing the previous record by nearly 30%.
"In more and more regions, including parts of China, the European Union (EU), India and the US, it is now cheaper to build new wind or solar photovoltaic plants than to operate existing coal-fired power plants."
Despite the growing competitiveness of renewables, the report states that Covid recovery packages continue to pour money into the brown economy.
"In response to the Covid-19 crisis, governments around the world announced more than $12-trillion in financial stimulus, including at least $732.5-billion in energy-related support.
"Although some stimulus packages included incentives for renewables, as of April 2021, this comprised only around $264-billion of the total amount provided by governments globally, compared to more than $309-billion in fossil-fuel stimulus."
The report recommends that the share of renewable energy in TFEC be set as a key performance indicator by governments "for every economic activity, every budget, every single purchase."
"Every Ministry should have short- and long-term targets and plans to shift to renewable energy coupled with clear end-dates for fossil fuels," Adib argues.
The report shows that renewable energy made up around 6% of South Africa's TFEC, placing the country ahead of G20 countries such as the Republic of Korea, the Russian Federation and Saudi Arabia, but behind world's largest economies in the EU and in the Americas.
It argues that South Africa, and other countries, should set specific renewables targets, as such targets are "binding objectives that can be used to hold countries accountable".
Nevertheless, setting net-zero targets alone does not necessarily lead to greater attention to renewables or to success in meeting renewables targets. "Alongside any kind of target, robust policies and regulations are needed to ensure these targets are met."