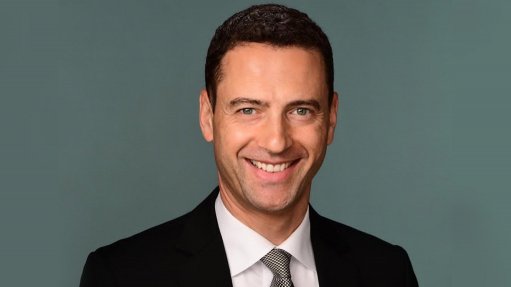 Glencore CEO Gary Nagle.
JOHANNESBURG (miningweekly.com) – Mining and marketing company Glencore, which last month initiated steps to provide lithium-ion battery recycling solutions at scale for Spain and Portugal in partnership with FCC Ámbito and Iberdrola, on Tuesday announced yet another potentially far-reaching step along the busying road to circularity – this time to study the feasibility of the creation of a hydrometallurgical facility for lithium-ion battery processing in Italy, in partnership with North American lithium-ion battery recycler Li-Cycle.
Necessitating fresh investment in primary mine supply and secondary recycling are recent government policies that include the European Union's proposed Green Deal Industrial Plan and the US's Inflation Reduction Act.
The London- and Johannesburg-listed Glencore, headed by CEO Gary Nagle, is again signalling its intent – as it runs down its own coal business – to provide minerals and metals needed for the decarbonisation of the world's energy grid.
The project underpins Glencore's ambition to become the circularity partner of choice for the European battery and electric vehicle industry, Glencore recycling head Kunal Sinha stated in a media release to Mining Weekly.
Li-Cycle's expansion in Europe will replicate the company's North American model of pre-processing spoke network and centralised post-processing hub, Li-Cycle co-founder and executive chairperson Tim Johnston said.
It is envisaged that Glencore's Portovesme operation in Sardinia, where the lead-zinc and hydrometallurgical complex dates back to 1929, will leverage Li-Cycle's hydrometallurgical technology.
A definitive feasibility study for this project will commence in the next 60 days for completion by mid-2024.
Commissioning of the Portovesme hub is expected to begin in late 2026 or early 2027, with Li-Cycle building on the learnings from its Rochester hub in New York.
Portovesme's processing capacity is expected to be 50 000 t to 70 000 t of black mass input a year.
The facility is expected to enable Europe to get one step closer to closing the loop on manufacturing scrap, as well as end-of-life batteries, using hydrometallurgical processes.
In a circular economy, used products or resources are recycled, composted, or re-used in a way that allows them to go back into a new lifecycle or supply chain.