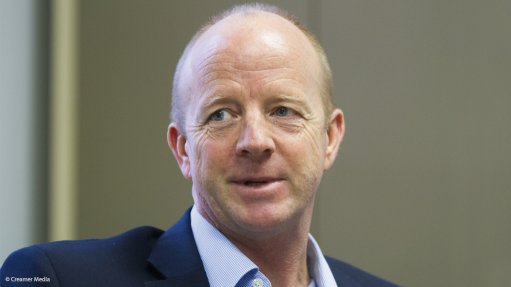 Goldplat CEO Gerard Kisbey-Green
Photo by: Duane Daws
JOHANNESBURG (miningweekly.com) – The Ghanaian government has granted Goldplat a three-year licence renewal to buy and deal in gold in the country.
Gold Recovery Ghana, the London Aim-listed company's wholly owned gold recovery subsidiary in Ghana, recovers gold from by-products of the mining process, providing an economic method for mines to dispose of waste materials and adhere to environmental obligations.

As with previous licences, the renewal grants Goldplat the right to purchase and process waste products for the purpose of recovering and exporting gold and concentrates.
Its terms require Gold Recovery Ghana to pay a 5% royalty to the Ghanaian government on all minerals obtained from its operations and to maintain the licence, Gold Recovery Ghana must implement its previously announced plans to install an elution plant.
The licence lays down that the elution column must arrive in Ghana by June 30, be installed by December 31 and begin producing by June 30, 2018.

The company is confident that it can install the elution column within this timeframe to meet the defined milestones.

Customs clearance and shipping of a number of containers, containing concentrates and other waste destined for further processing outside of Ghana, which have been awaiting the renewal of the licence, will begin immediately.
Goldplat CEO Gerard Kisbey-Green said the international diversification of sourcing of material for import into and processing at the Ghanaian recovery business is a major pillar of the company's growth strategy.
"We're in complete agreement with the government regarding the need to install and commission an elution plant, which will significantly increase our operational capacity, and look forward to delivering on our construction targets," Kisbey-Green said in a release to Creamer Media's Mining Weekly Online.
The recovery of gold from mine waste at Goldplat Recovery in South Africa generates a surprisingly high level of revenue while simultaneously protecting the environment and providing hundreds of valuable jobs.
Last year the company generated revenue of R350-million (£20-million) by recovering 40 000 oz of gold from several forms of mine muck. (Also watch attached Creamer Media video).
The success of Goldplat lies in its many decades of institutional knowledge.
The profitable, debt-free gold recovery services company turns mine woodchips, mill grease, mill liners, fine carbon, concentrate bags and other mine throw-aways and muck to positive account.
There are many mines that are still pumping fine carbon on to tailings dumps without realising that gold can be recovered from the fine carbon. The gold content of some fine carbon can be as high as 500 g/t.
Surprisingly, Goldplat is able to do the proper and profitable gold recovery routine with the help of off-the-shelf equipment and a multiplicity of processing routes that come with years of experience.
In South Africa, the company has both gold mining and gold refining licences and is registered with this country's Precious Metals Regulator and the National Nuclear Regulator.
Recovered at its recovery plant in Benoni is the gold that finds its way into:
• the wood used as support in underground mines;
• steel and rubber mill liners, which are used to protect the mill shell used in mine processing plant;
• mill grease, which when replaced is reprocessed to recover spillages of ore that have stuck to the grease;
• fine carbon, which becomes available when modern processing plants reprocess activated carbon for reuse;
• "vlei" material, or surface material in the vicinity of mine processing plant that tends to accumulate in settlement ponds; and
• the clean-up of gold plants and rock dumps.
Steel from mill liners is shotblasted to remove the gold concentrate and rubber mill liners are incinerated and the gold recovered from the ash.
Earlier this year, Mining Weekly Online witnessed Goldplat putting waste material through crusher circuits, several different milling circuits and its own carbon-in-leach circuits at the busy operation on 22 ha in Benoni, which also has a rotary kiln, fluidised bed incinerator, sizeable elution plant, spiral plants, shotblasting facilities and a smelter.
After testing to establish assay, moisture content, recoverability and size, Goldplat buys the materials from mining companies when they become available. The operation has proved profitable at a gold price of $1 060/oz.
The waste residues that emanate from the various processing routes are placed on Goldplat's own on-site "tailings" facility, which has never been classified as a tailings facility but rather as a stock dam.
Over the years, the company has carefully monitored the exact content and location of the metals stocked in the dam and last year an independent consultant found, in a Joint Ore Reserves Committee resource classification, that the stock dam contained 82 000 oz of gold, as well as significant amounts of silver and uranium, tallying well with Goldplat's own internal records.
That material will be processed once a new deposition site is finalised, the optimal one being a disused openpit right nextdoor.
The business has been built largely through internal profits.
The company has not been to the market for more than a decade and has self-funded its projects and maintenance expenditure.
With cash-flow positive and stable, the company is now keen to enter a growth phase, with the now relicensed Gold Recovery Ghana business forming a key part of the growth strategy.