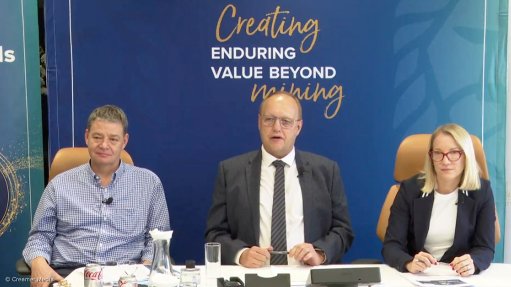 From left, Gold Fields CFO Paul Schmidt, interim CEO Martin Preece and EVP Kelly Carter.
JOHANNESBURG (miningweekly.com) – Although Gauteng dwellers have tended to dismiss wind as a renewable energy provider from this region, some are now being blown away by the gusts that puff across our far-stretching gold reef.
"I thought the wind didn't blow up here," interim Gold Fields CEO Martin Preece confessed this week during question time at the Johannesburg- and New York-listed company's environmental, social and governance (ESG) presentation.
But a tall meteorological mast set up at the long-life mechanised South Deep gold mine is pointing to the opportunity to erect ten 3 MW to 4 MW wind turbines, giving a potential additional 30 MW to 40 MW of renewable energy capacity at a cost of R1-billion. (Also watch attached Creamer Media video.)
These wind energy generators will augment the 50 MW of sun energy that South Deep is already generating, at a capital cost (capex) of R715-million.
Interestingly, South Deep's solar power is doing so well that it will slash R160-million to R170-million off the mine's electricity bill this year.
"If you take the capex out of it, we're generating electricity at just under 10c/kWh – that is US cents and R1,40/kWh in rands – at South Deep," Preece disclosed at the May 4 briefing. This harnessing of valuable renewable energy is being achieved along South Africa's historic Witwatersrand gold basin, near the Far West Rand town of Westonaria.
What's more, South Deep's spectacular solar project was carried out in-house, with the capital cost of R14 300 a kilowatt being absorbed and the margins being put back in the business.
Before Gold Fields embraced energy cleanness and greenness, 93% of its emissions related to coal-fired electricity, resulting in a major need to source alternatives to grid power from Eskom to meet a targeted 30% net emission reduction by 2030 and net-zero by 2050.
"As we invest in those wind turbines, we're aiming to get off the grid and eventually at the tail-end, which is not in the capex yet, we would look at putting in batteries, or some other storage solution in place," said Preece. The "some other storage solution" could be interesting because during a media briefing at the Investing in African Mining Indaba in Cape Town, Preece said in response to Mining Weekly: "We've got hydrogen on our radar screen." Interestingly, a recent study by independent risk management firm DNV found that hydrogen has the advantage of relatively cheap storage for each kilowatt hour stored, and storage can be scaled up to increase the discharge time for a given discharge rate. Hydrogen can be produced in seasons with excess electricity generation from renewables and then converted back to electricity during periods with reduced wind and solar availability. Moreover, hydrogen can be stored for a day, a week, a month, a year or years.
RENEWABLE ENERGY HAS A FIXED COST ADVANTAGE
South Deep's ultimate aim is to get off the grid, because that is the way it can ensure business continuity, and meet the commitments it has made to get its business carbon neutral.
Questioned on the possible addition of gas from Mozambique to the South Deep energy mix, Preece said: "The challenge is the distance it has to come from Mozambique."
The question was prompted by Gold Fields' inclusion of gas in its energy mix at its St Ives gold mine in Australia.
Said Preece: "Because gas is mined in the northern part of Western Australia, our mines get that gas at a discounted rate to even the rest of Australia."
The gas line runs down from north to south, which makes it convenient for the St Ives mine. But, notwithstanding that, Gold Fields is intent on moving St Ives away from gas and focusing on solar, wind and batteries within a microgrid framework.
"We want to get away from gas eventually. St Ives is a long-life asset. That's the horse we're backing as a tier-one asset in Australia in which we believe investing the right money in solar, wind, batteries is the place to go. It takes costs out of our bottom line and it does the right thing for our business.
"A gas line from Mozambique would most likely be quite expensive for us now and we also see more value in wind and solar at South Deep," said Preece.
Gold Fields CFO Paul Schmidt drew attention to the fixed-cost advantage of solar and wind and the variable cost risk of gas as a result of it being subject to market pricing
"Renewables, that's the target, because, as we've seen in Australia, gas is subject to market pricing, whereas with renewables, you have a fixed cost once you've installed it, plus maintenance.
"So, for South Deep, we want to go totally green in terms of wind and in terms of solar because you've got a fixed cost going forward. You don't have market pricing that affects you, as is the case with gas and diesel," Schmidt added.
INTENSIVE STAKEHOLDER VALUE CREATION
Gold Fields group executive VP legal and compliance Kelly Carter highlighted the focus of Gold Fields on its host communities, which are most directly impacted by its mines.
That stakeholder grouping received 27% of all the value created last year, which is $913-million.
Gold Fields is focusing on how it can employ more members of its host communities, how it can procure goods and services from particularly small and medium-sized enterprises that reside within these communities, and then how it can invest within those local communities in infrastructure, health and education facilities.
Another 2030 target is to develop six transformational and enduring legacy programmes that are anticipated to have a material impact on those communities through economic diversification, job creation, infrastructure development, climate change mitigation and adoption, and improving health and education outcomes.
"A pipeline of those legacy programmes have already been conceptualised at all of our regions around the globe. One of those programmes at our Cerro Corona mine in Peru is ready to be launched later this year.
"We're working with our communities, contractors and suppliers to create jobs outside of the mining supply chain, particularly in agriculture. To date, we've created about 800 non-mining jobs, mostly in South Africa, Ghana and Peru," said Carter.