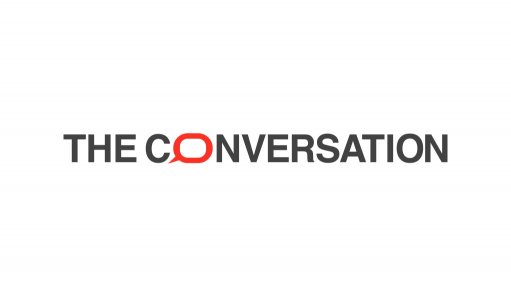 When South Sudanese President Salva Kiir announced the abolition of secondary school fees in South Sudan in February 2023, he was following several fellow African leaders.
Ghana, Madagascar, Malawi, Sierra Leone, Togo, and Zambia have all announced free secondary education policies in the last five years. Rwanda, Kenya and South Africa were early trendsetters in this regard.
Despite its popularity with policymakers, parents and other stakeholders, the abolition of secondary school fees in resource-constrained contexts is still a subject of debate.
The African Union, global non-governmental organisations (NGOs) like Human Rights Watch and various United Nations agencies are in favour.
Others are sceptical. They highlight financial sustainability and equity implications, especially at the upper secondary level. A report by the Malala Fund, a global education NGO, argued that free upper secondary education "would be regressive in nature" and might not be affordable for low-income countries.
We conducted a systematic review to take stock of the evidence. We conclude that free secondary education can be costly and inequitable in the short run, especially if it diverts resources from primary education. Based on these findings, we recommend a policy of "progressive universalism": free education should be introduced gradually, starting with the lowest levels.
Setting the scene
Many African countries abolished primary school fees in the 1990s and early 2000s. This led to a major rise in enrolment. But secondary school enrolment rates still lag far behind those in other world regions. Less than half of children in sub-Saharan Africa complete lower secondary education, compared to around 80% in South Asia and Latin America. High fees and related costs are a major impediment, particularly for children from low-income backgrounds.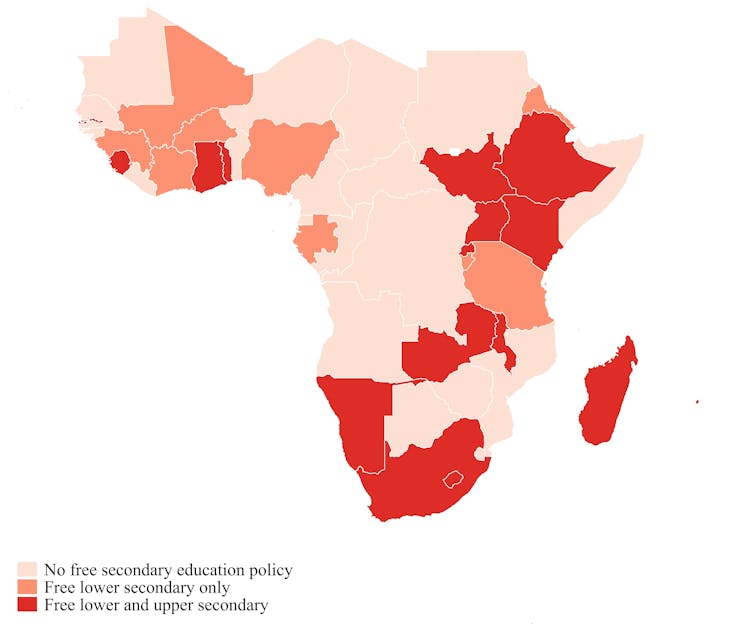 The number of sub-Saharan Africa countries with free secondary education policies in place has increased rapidly over the last two decades. Almost half of all African countries now offer fee-free education at the lower secondary level. Almost one in three does so at the upper secondary level. The aim of the recent wave of free secondary education policies is to raise overall education levels – and, ultimately, countries' broader prosperity and social conditions.
Abolishing school fees is also popular with voters. This may have been on the minds of politicians seeking to win or maintain power.
The cost of free education
There are two major problems with secondary school fee abolition in resource-constrained states. The first is that, in most African countries, the majority of children from poor households would be ineligible for free secondary education. In Somalia, Niger and Mozambique, less than one in five of the poorest children complete primary school.
Moreover, even those eligible for free secondary education are often unable to attend. School fees constitute less than half of households' education spending in most African countries. Most free secondary education policies do not cover the cost of essential non-fee expenses such as textbooks, school uniforms, meals and transport. Nominally "free" secondary education can therefore be unaffordable for low-income households. This means the benefits of fee abolition would mainly accrue to children from relatively privileged households and not help those who needed it most.
The second problem is that enacting these policies is very expensive. Empirical evidence from Ghana, The Gambia, Kenya and other countries shows that free secondary education policies can substantially increase secondary school enrolment and completion rates in the short run. But they do so at a very high cost: the average expense per senior secondary student is equivalent to that of five primary school pupils.
Considering the precarious financial position of many African states, providing free secondary schooling to the entire population is likely to be fiscally unsustainable.
It may also divert scarce resources away from basic education, which is already chronically underfunded. In Malawi for example, which recently abolished secondary school fees, there are more than 70 students per primary school teacher.
What is to be done?
Access to education is a human right. In an ideal world, the global community would ensure that all children could enjoy a full cycle of free, high-quality education.
Most African countries are far removed from this scenario, however. Policymakers must balance the potential benefits of abolishing secondary school fees against the urgent need for investment in basic education.
In many cases, this would suggest a phased approach to introducing free education, which prioritises public spending on basic education in the short run, while asking wealthier households to contribute to the cost of higher levels of education. A good example is South Africa's fee-free schools policy, which was designed to increase enrolment in the poorest districts.
Written by Mohammed Alhassan Abango and Leslie Casely-Hayford of Associates for Change, Ghana
Also written by Rob Gruijters, Associate Professor in Education & International Development, University of Cambridge
This article is republished from The Conversation under a Creative Commons license. Read the original article.