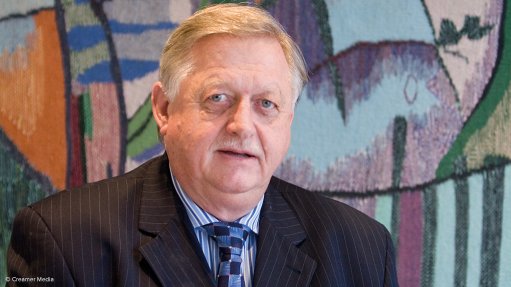 Independent precious metals consultant Dr David Davis.
Photo by: Creamer Media
JOHANNESBURG (miningweekly.com) – An outline of the short-term and medium-term renewable energy plans of South Africa's large platinum group metals (PGM) mining companies is provided in the latest Auctus Metal Portfolios report, a 16-page document compiled by independent precious metals consultant Dr David Davis.
Auctus Metal Portfolios of Singapore offers a physical precious metal investment management system that includes platinum, palladium and rhodium.
The planned short- and medium-term generation of the four main PGM producers is put at a collective 295 MW, and that of South Africa's private sector as a whole at 3 000 MW, with 9 000 MW in the longer-term planned pipeline of projects. (At the time of going to press, however, Mining Weekly was informed that total renewable energy projects in the private-sector pipeline have actually risen to a considerably higher 13 000 MW.)
By the end of this year, the Auctus report states that a 100 MW PGMs project is scheduled to be operational, and by the end of next year, 3 000 of the private-sector megawattage will have likely materialised.
The report highlights Sibanye-Stillwater's proposed three-project renewables plan as introducing 175 MW across the Johannesburg- and New York-listed company's PGM mines in South Africa, made up of an 80 MW solar photovoltaic (PV) project at its Rustenburg Platinum Mines, a 65 MW solar PV project at Karee, and a 30 MW solar PV project at its Bushveld Complex operations. (As reported by Mining Weekly, relaxation of regulatory requirements and the anticipated ability to trade electricity in South Africa have enabled Sibanye to grow its renewables portfolio to 557 MW of solar and wind projects.)
The Auctus report states that it will be Anglo American Platinum's 100 MW solar PV plant at the Mogalakwena mine in Limpopo that will be operational by the end of 2023. (Mining Weekly has reported that the Anglo American group as a whole will this year commence the contract for the first two projects in a 600 MW bucket. That initial 600 MW of renewable energy will then progress to a 3 000 MW to 5 000 MW total as part of the London- and Johannesburg-listed company's Envusa energy programme, which has been given the status in South Africa of a strategic integrated project, which speeds things up.)
Scheduled for commercial operation in 2024, the Auctus report adds, is a 10 MW solar PV project at Impala Platinum's Marula platinum mine in Limpopo, and modules of 10 MW by Northam Platinum. (As reported by Mining Weekly, the largest of the Johannesburg-listed Northam's three planned solar installations currently is an 11 MW solar installation, which is under construction at Northam's Zondereinde PGMs mine. This will be followed by the commissioning of installations at Northam's Eland and Booysendal PGM mines. Northam has also made it clear that it is looking to a wind power boost as well.)
The Auctus report emphasises the decline of Eskom's ageing fleet of coal-fired power stations and the impact of that on PGMs platinum mine supply from South Africa and globally. Under the circumstances, it expects an increase in PGM inventories, along with a decline in PGMs supply from 2023 to 2027.
OPERATIONAL GOLD MINE RENEWABLES
Mining Weekly can report that Gold mining companies are already producers of embedded renewable energy. Pan African Resources is generating 10 MW on the Far East Rand and Gold Fields 50 MW on the Far West Rand. Both are looking to producing considerably more, with Gold Fields recently discovering on-site wind energy potential at its South Deep gold mine, near Westonaria.
Harmony Gold's first 30 MW of embedded solar power, close to its Tshepong gold mine in the Free State, is scheduled to begin producing next month as part of a power purchase arrangement (PPA). Then, the first 100 MW of the gold mining company's 137 MW second phase will be built by Harmony itself and funded by an already secured green loan. The remaining 37 MW will be part of a PPA. Harmony's third phase, which is still subject to a feasibility study, will involve technologies that can provide a percentage of baseload power.
Those very close to South Africa's renewables project development report that they are beginning to see some encouraging light at the end of South Africa's terribly disruptive loadshedding tunnel.