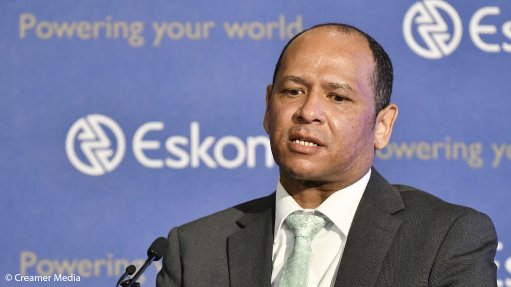 Eskom interim CEO Calib Cassim
Eskom has indicated that Stage 8 loadshedding – representing 16 hours of cuts in a 32-hour cycle – is possible this winter if coal plant breakdowns breach 18 000 MW and demand rises in sync with what is forecast to be a colder winter than was the case in 2022.
However, interim CEO Calib Cassim continues to insist that the risk of a total blackout is low.
"The increase in loadshedding levels does not mean there is a greater risk of a national blackout, instead loadshedding is one of the processes we use to prevent such an occurrence by managing the demand for electricity at a given time," Cassim said at the release of the State-owned utility's long-awaited 'Winter Outlook'.
The outlook presented assumes that demand will peak at about 33 000 MW and that, should breakdowns rise to 18 000 MW, Eskom's available capacity (once planned maintenance is included) will be only some 26 500 MW, leaving a shortfall of about 6 500 MW.
With each stage of loadshedding being roughly 1 000 MW, any deterioration to 18 000 MW and beyond could, thus, result in loadshedding beyond Stage 6, group executive for transmission Segomoco Scheppers explained.
Eskom's winter 'base case' remains premised on an unplanned capability loss factor, or UCLF, of 15 000 MW, but the loss of three Kusile units, together with delays in returning Koeberg Unit 1 to service following an extended shutdown has translated to far higher levels of unplanned losses for much of the year to date of above 16 000 MW, with breakdowns having breached the 19 000 MW level at times.
Even under the 15 000 MW base case, however, loadshedding of up to Stage 5 will be required on most days (122 days) during May, June, July and August. At 18 000 MW or above, loadshedding is required every single day (153 days) during the period, while the intensity of the rotational cuts could be ramped up to Stage 8.
The utility is working with municipalities on a revised loadshedding code of practice, or NRS048-9, that will cater for up to 16 stages of loadshedding.
However, Scheppers stressed that the revision did not reflect an expectation at Eskom that it would be required to implement loadshedding beyond Stage 8, but was rather designed to prepare the schedules should it ever be necessary to take such action.
Group executive for distribution Monde Bala described the NRS048-9 revision as a "pre-emptive and necessary exercise" to ensure there were clear systems of control should Eskom implement loadshedding beyond Stage 8.
Group generation executive Bheki Nxumalo said that various interventions were being pursued in an effort to reduce the intensity of loadshedding, including a plan to increase the utilisation of open cycle gas turbines (OCGTs) to a 20% load factor during the winter period.
Through tariff increases and the debt relief package, Eskom had R30-billion available for diesel, R20-billion of which would be spent to operate its own OCGT plants at Ankerlig and Gourikwa, with R10-billion available to buy electricity from the private OCGT plants.
It has been reported previously that the year-to-date load factor from the 2 409 MW OCGT fleet has been 11%, implying a far higher level of use for the coming period.
However, Nxumalo said the main focus of the generation division was on reducing the UCLF across the coal fleet, with the goal of reducing unplanned outages to below 15 000 MW and steadily increasing the coal fleet's energy availability factor (EAF) to 65% by the end of March 2024.
He acknowledged that it would be a difficult target to achieve, admitting that the initial EAF target of 60% by the end of March this year had not been met, with the EAF having been 56%. It had since deteriorated further to 52%.
Nxumalo reported that his current preoccupation was with ensuring leadership stability across the coal stations and reported that senior operators were being installed at Eskom's most troubled stations in an effort to turn around their performance.