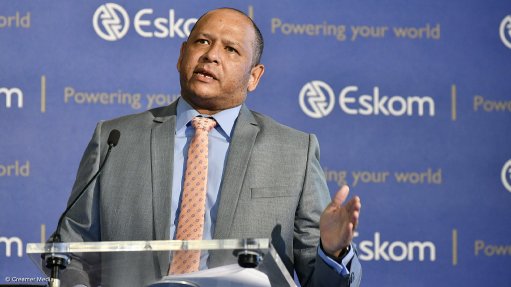 Eskom CFO Calib Cassim
Photo by: Creamer Media's Donna Slater
State-owned utility Eskom warns that an inflation-linked hike will force it to seek yet more support from the National Treasury, amid overwhelming calls for the energy regulator to reject its request for a 20.5% tariff hike from April 1 and to implement a single-digit increase instead.
Stakeholder warnings over the unaffordability of the proposed increase on business and households emerged as the core theme during week-long public hearings, which were hosted by the National Energy Regulator of South Africa (Nersa) from January 17 to 21, culminating in a hybrid event in Gauteng.
Eskom, which made major adjustments during the hearings to the assumptions underpinning its application, initially submitted in June last year, is seeking allowable revenue, including outstanding amounts already approved by the regulator, of R293.4-billion for 2022/23.
If approved, the standard wholesale tariff would rise from 133.64c/kWh to 161.04c/kWh, or by 20.5%.
The utility is forecasting sales of 193 579 GWh for the upcoming financial year, which it expects to supply from its own generators as well as through purchases of electricity from independent power producers (IPPs).
After a downward revision to the assumed energy availability factor from its underperforming coal fleet from 72% to 62%, the utility is requesting R86.5-billion to cover its primary energy costs.
Controversially, the figure includes R6.5-billion for the diesel-fuelled open-cycle gas turbines (OCGTs), which Eskom expects to operate at a load factor of 7%, rather than the 1% initially assumed.
There was much debate during the hearings about the prudency of allowing Eskom to use the OCGTs outside of their role as peaking plants. The utility defended the request on the basis that load-shedding carried a cost to the economy, which it estimated to be R9.53/kWh, that was three times that of producing OCGT electricity.
After a material decrease in assumed purchases of electricity from IPPs, from 36 448 GWh in the original application to 25 135 GWh, Eskom is requesting R52.7-billion to purchase electricity from IPPs, a R17.4-billion downward revision from the original application.
The balance of the application comprises R68.3-billion for depreciation, R66.7-billion for operating expenses, R5.7-billion for arrear debt, R4.6-billion for international purchases, R7-billion for the environmental levy, R2.7-billion for the carbon tax and R14.4-billion in previously approved regulatory clearing account-related revenue.
Eskom also adjusted its return-on-assets assumption from -1.99% to -1.2%, which is reflected in a reduced loss of R15-billion, rather than the R25-billion outlined originally.
The proposed hike has been rejected by business, civil society and local government, with the executive mayors of both Cape Town and Johannesburg, Geordin Hill-Lewis and Dr Mpho Phalatse respectively, making direct representations to Nersa during the hearings.
Phalatse argued in her presentation that an above-inflation hike would have a "devastating impact" on the citizens of Johannesburg, erode business confidence and disrupt the economic recovery.
Energy Intensive Users Group CEO Fanele Mondi said that while not all the revenue being requested was within Eskom's control, including the IPP payments and the environmental levies and taxes, it nevertheless felt that the increase should be limited to a maximum of the consumer price index (CPI) plus 4%.
However, Mondi argued that it would be preferable to contemplate Eskom's costs in isolation to any pass-through costs, with the producer price index (PPI) rate offering the main guideline for any internal cost increases.
Likewise, Minerals Council South Africa chief economist Henk Langenhoven suggested that increases should be aligned with PPI inflation, or alternatively be governed within a band similar to one deployed by the South African Reserve Bank to manage inflation.
Independent energy analyst Clyde Mallinson also argued that the 2022/23 hike should be limited to CPI but suggested that the National Treasury should simultaneously inject R400-billion into Eskom to address its unsustainable debt burden.
"Eskom must be funded from the Treasury to encourage the government to look at the policies that are causing Eskom to need more cash," Mallinson argued, suggesting that such a move would create the policy foundations for the implementation of a new solar-wind-storage-based system that would yield far lower tariffs by 2035.
In his presentation, Eskom CFO Calib Cassim urged Nersa to assess Eskom's costs on their merits, before deciding on what regulatory levers or policy interventions could be used to offer support to consumers.
"We should not let affordability cloud the merits of Eskom's application and the efficient costs should be allowed to be passed on."
Cassim cautioned, too, that more support would indeed be required from government should Nersa decide to implement a tariff that is more in line with CPI than the double-digit hike outlined in its application.
An inflationary increase, Cassim argued, would cover the IPP-related increases only, which made up 5.85% of the 20.5% being sought, leaving no revenue to cover Eskom's cost adjustments or the carbon tax.
Such an outcome would impact Eskom's operations "severely" and would leave debt commitments unmet.
"Eskom would then have to approach the National Treasury for further support to continue operating.
"However, government has indicated there will be no further fiscal support beyond its current commitments," Cassim added.
Fulltime regulator and chair of the hearings Nhlanhla Gumede said Nersa would seek to balance the needs of consumers with those of Eskom when making its decision.
He reported that an adjudication of Eskom's allowable revenue would be finalised by February 25, after which a tariff determination would be made, probably during the first two weeks of March.
The tariff determination could still include a R3.4-billion amount approved following the 2019/20 regulatory clearing account decision, approved in late 2021.
Eskom reaffirmed during the hearings that it was not expecting to recoup any of the R59-billion equity injection still due to it in line with a court ruling that found Nersa acted unlawfully when it deducted the government injection from Eskom's allowable revenue during a previous three-year tariff determination.
This, despite the fact that Nersa was not contesting, in a Supreme Court of Appeal matter, the unlawfulness of the subtraction but rather whether the High Court judgment had overstepped the mark by stipulating a specific tariff instead of remitting the decision back to the regulator.