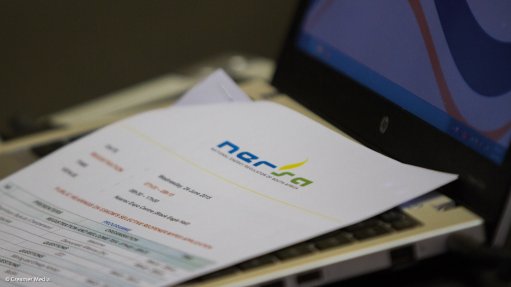 Photo by: Duane Daws
State-owned electricity utility Eskom believes the decision of the Supreme Court of Appeal (SCA) to upheld an appeal by National Energy Regulator of South Africa (Nersa) and Eskom relating to implementation of a clawback mechanism in South Africa's tariff-setting methodology opens the way for regulator to consider two further regulatory clearing account (RCA) applications that have been held in abeyance amid legal uncertainty.
The uncertainty over the application of the RCA arose after an August 2016 North Gauteng High Court judgment, which found Nersa's approval of Eskom's multiyear price determination (MYPD) RCA application for 2013/14 to be unlawful. Nersa granted Eskom, which applied to recoup lost revenue of R22.8-billion for the financial year, a partial clawback of R11.2-billion, which translated into a tariff hike of 9.4% in 2016.
In her ruling in a case brought by several private companies within the Nelson Mandela Bay metropolitan municipality, Judge Cynthia Pretorius found Nersa's deviation from the MYPD methodology, as well as its failure to communicate such deviation to stakeholders, to be "irrational, unfair and unlawful".
However, on June 6, the SCA upheld Nersa's appeal, indicating that, in applying the methodology, the regulator was not precluded from applying reasonable judgment on Eskom's revenue when balancing the interests of both the utility and the public.
The court stated that the applicants and the High Court "misconceived the manner in which the MYPD operates and how it is applied. They both erred in considering Eskom's failure to submit quarterly reports . . . precluded the approval of the RCA application".

Eskom immediately interpreted the ruling to mean that Nersa could now consider the two outstanding RCA applications, collectively involving potential clawbacks of R40-billion, for the financial years ending 2016 and 2017. However, it said it would await Nersa's guidance on the matter.
It is also not immediately clear what would become of the one-year revenue application, for 19.9%, which Eskom was preparing to submit for the 2018/19 financial year. Should Nersa reconsider the outstanding RCA applications, and should Eskom receive clawback relief, it would have a material impact on Eskom's 2018/19 application.
NERSA YET TO DECIDE ON WAY FORWARD
Nersa welcomed the judgment, but spokesperson Charles Hlebela indicated that it was still studying the ruling's implications and that the regulator would "pronounce on the way forward in due course".
The Organisation Undoing Tax Abuse (Outa) expressed "serious concern" about the implications of the SCA ruling. "While Outa agrees somewhat to the court ruling that it is Nersa's role to regulate Eskom's governance and adherence to the regulations, our concern is that Nersa has not been challenging enough and have on too many occasions, acceded to Eskom's demands and bent the rules," director for energy Ted Blom said in a statement.
"The public and civil society have on numerous occasions complained about inefficiencies, lack of governance and extent of corruption within the State-owned entity. We are disappointed by Nersa siding with Eskom instead of shielding consumers from excessive tariff hikes which have seen electricity prices soar by over 500% since 2007," Blom added.
He said the ruling would spur civil society to take a stronger approach to ensuring that Nersa played its role more meaningfully in holding "Eskom to account for their wasteful expenditure and growing inefficiency".