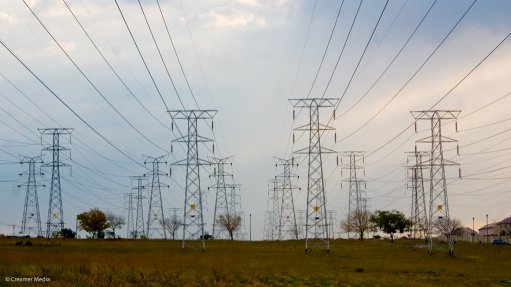 Photo by: Duane Daws
State-owned electricity utility Eskom has clarified that its proposal for a "selective reopener" of the third multiyear price determination (MYPD3) would be pursued for the remaining three years of the five-year determination period, which began on April 1, 2013 and will continue until March 31, 2018.

But the financially distressed group insists that the timing and size of any tariff increase will be determined by the National Energy Regulator of South Africa (Nersa), to which a formal application still needs to be made. It, therefore, refuses to comment on reports that it is seeking a hike of 25.3% from July 1 this year.

Nersa rules allow for a reopener if there are significant, above 10%, changes in the assumptions made by the regulator during the MYPD determination.
The rules also allow Eskom to make yearly regulatory clearing account (RCA) submissions after receiving its audited financial statements. Such applications allow it to claw back "prudently" incurred costs not allowed for in the tariff determination.
Nersa full-time regulatory member Thembani Bukula has confirmed with Engineering News Online that it has been notified by Eskom of its reopener consultations with the National Treasury and the South African Local Government Association (Salga). However, Bukula says Nersa has not yet received an application and is also seeking clarity on what Eskom means by a 'selective reopener'.
Bukula has met with Energy Minister Tina Joemat-Pettersson on the matter, where Nersa's reopener processes and procedures were outlined.
Once Nersa receives an application it needs to publish the contents for 30 days before allowing stakeholders to submit comments and/or make oral representations. In the past, public hearings have been held across the provinces and the consultation process has generally endured for between 45 days and 60 days.

In a media statement, the utility said it had initiated a selective reopener of the MYPD3 application from the 2015/16 financial year onwards, owing to costs incurred in securing further short-term power purchases and its increased use of open cycle gas turbines. It added that tariffs would also need to reflect the environmental-levy increase announced by Finance Minster Nhlanhla Nene in February.

However, Eskom spokesperson Khulu Phasiwe tells Engineering News Online that the reopener application, once submitted, will not be confined to these three components. Instead, it will cover "selective" years within the five-year MYPD3. In other words, it will be seeking a reopener for the 2015/16, 2016/17 and 2017/18 financial years.

Under the MYPD3, Nersa has granted Eskom five yearly tariff increases of 8%, which is half the 16% initially requested by the utility.

But following a RCA application for the MYPD2 control period, Nersa has granted Eskom a 4.69% upward adjustment to the tariff from April 1, 2015, which will result in a hike of 12.69% for direct Eskom customers. Municipal tariffs, in turn, will rise by 14.25% from July 1, 2015, owing to the lag between the Eskom increase and the start of the financial years at electricity distributing municipalities.

Phasiwe could not be drawn on the size of the increase being sought under the reopener, but it is understood that Eskom is canvassing a hike of at least 9% a year over and above tariffs already sanctioned. That could translate to around 22% for 2015/16, 17% for 2016/17 and 17% for 2017/18 before any yearly RCA applications.
Formal talks are likely to convene with the National Treasury and Salga during the course of this week and the application will only be submitted once these consultations have been concluded. It is currently anticipated that Eskom is likely to submit to Nersa in April.