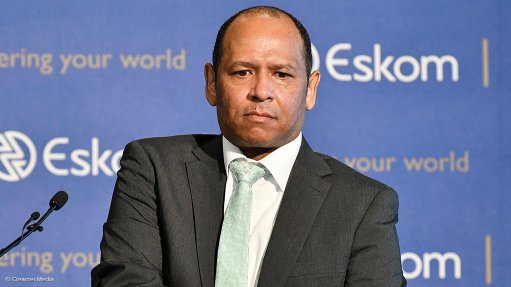 Eskom acting CEO Calib Cassim
Photo by: Donna Slater
Eskom's acting chief executive officer travelled to China, as the South African State-owned utility implements record power cuts that are hobbling the nation's economy.
Calib Cassim accompanied South African Public Enterprises Minister Pravin Gordhan on the trip to Beijing, Chairperson Mpho Makwana said by phone on Wednesday, declining to provide further details.
"The minister will address those issues via a press conference when he is back," Makwana said.
Gordhan's department oversees Eskom. His spokesperson, Ellis Mnyandu, referred a request for comment to Eskom. The utility's media desk didn't immediately respond to a request for comment sent by email.
Eskom has been implementing rolling blackouts since 2008 to reduce reliance on its ailing power plants. Those outages have intensified in recent years and the country has been subjected to 16 consecutive months of blackouts that can last as long as 12 hours a day.
Gordhan travelled to China earlier this month to discuss an impasse that's blocked the delivery of locomotives and spare parts needed to improve the performance of State rail and ports operator Transnet. South Africa's Minerals Council, an industry lobby group, estimates that the sector forfeited R50-billion in 2022 because of constraints on the nation's freight-rail network.
Gordhan met Zhang Yuzhuo, the director of China's Assets Supervision and Administration Commission of the State Council on Tuesday.
The commission will "support China's central enterprises in accordance with the principles of marketization and rule of law, and strengthen cooperation with South African State-owned enterprises in transportation and energy security," it said in a statement on Wednesday.