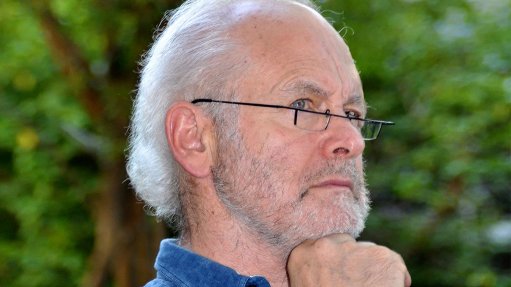 Professor Raymond Suttner
The level of disarray in state and state-owned institutions stares us in the face every day. At one level it is hard to untangle what is true and what is false, as well as who can be relied on to explain what is happening as one state or state-owned institution after another falls into dysfunctionality.
In normal times, patriotic South Africans aiming to achieve a transformational state would say "who are the rating agencies to destabilise us by saying that loans should cost South Africa more?" No independent state wants its transformational decisions to be dependent on outside approval, in particular not the approval of institutions that guide big banks and other instruments of international capital.
No nation with any sense of pride wishes to lose its own capacity to make decisions on its future and what shape it should take, or have it undermined or diminished. This is especially the case in a society which is on a developmental path aimed at addressing inequalities and poverty.
But when Standard & Poor's downgraded the credit rating of Eskom to junk status it acted on the intelligence that our country faces a deep energy crisis, and that steps to address that crisis are being undermined by decisions that bear no relation to achieving a remedy.
The suspension of the almost newly appointed CEO of Eskom, Tshediso Matona, and three other senior executives - allegedly to pave the way for what purports to be an independent commission of enquiry - had initially been depicted as not constituting a suspension. Yet Matona has challenged his removal in the Labour Court and in the CCMA, and that would have been unnecessary had he not been suspended. As the euphemistic 'being asked to step aside' becomes admission of suspension in the discourse of Eskom chair Zola Tsotsi, the scepticism that grips the public mind is reinforced.
Tsotsi announced the suspensions in the midst of what all observers recognise as a massive energy crisis, one whose dimensions are clearly not being fully disclosed to the public. Through snippets of information it appears that we may face a total blackout lasting two weeks, possibly in the near future. And that is not all, for restarting the energy system is difficult and poses fresh hazards. Worse, without the resources that are required on a regularised basis to fuel it, and without the capacity to maintain it on a sustainable basis, the likelihood is that this may well be a recurrent experience as we descend into deeper and more wide-ranging problems, ensuring indefinite years of negative growth.
But problem is not an adequate word to refer to the immensity of the energy crisis in its impact on our lives and on an economy already suffering massive setbacks. It is not only big industries - which contribute significantly to economic growth - that are being and will be further damaged, but every level of enterprise and institution that is hit hard by the disruptions forced on their work by the interruptions in energy supply. We know it affects hospitals for instance, even sometimes compromising critical therapies and surgery.
I spent a day in Grahamstown last week, and within the first eight hours there were blackouts at three quite different places that impacted on two different types of business enterprises and Rhodes University. In fact, my book was launched mainly in darkness. One can imagine how computer users are affected, constantly losing data or their internet connection, and how studies at all levels are impaired through having to use candles or other inadequate forms of lighting, and how this can increase the risk of fires.
In a time of crisis people in a country must be prepared to stand together and pool resources to overcome the challenges confronted. They need to bury some differences and act together in the face of the danger. Unsurprisingly the imagery invoked is intended to suggest that the government is taking this situation seriously by establishing a 'war room'. But can - or should - the public have confidence in the word of the government?
This crisis did not start with the visiting of the Jacob Zuma misfortune on the South African public, but with the Thabo Mbeki administration's failure to take decisions and act in accordance with the needs of the sector.
But as this crisis deepens with the threat of a total shutdown of our power supply, we still see machinations over who holds what position and who gets what contracts and question marks over procurement. Some of this surrounds Eskom chair Tsotsi and who he has wanted to appoint to various positions, with some reports suggesting a connection with the New Age newspaper owned by Atul and Tony Gupta, who have already benefited from what has been described as a 'budget-busting R43m contract'.
The characteristic features of the Zuma era are ever-present, no matter what it means for the future of the country. In other words the lawlessness, patronage and irregularities of various kinds are so deeply embedded in the culture of current malgovernance that it cannot be suspended while we stare at the brink of disaster.
I have referred primarily to Eskom, but the impediment to solving the problems of Eskom are rooted in the same practices that have created crises of functionality in SARS, the NPA, the Intelligence Services, the Hawks, the SAPS, the SABC, IPID and many other institutions or enterprises where there are lucrative positions to be occupied and contracts to be awarded, or people to be defended from prosecution.
Some of those who condone or shield officials from accountability were once very brave in the face of apartheid danger and aggression. Many ask why it is that they have become complicit in what is happening. What is it that can be done to recover the spirit that inspired so many to offer their lives, endure great hardship or face torture to secure democratic rights?
The snuffing out of that spirit of daring and unwavering integrity is also manifested in the callousness that now grips the ANC and its allies – in its reaction to the Marikana killings, in its failure to meet basic needs for housing, water and educational facilities, even where the resources are available. It is seen in the indifference to attacks on foreign Africans, often people coming from territories that had hosted ANC exiles.
What can be done to recover the sense of responsibility towards the democratic project, and to rekindle the promise of 1994? For many of those who were involved in the liberation struggle - the giants like Lilian Ngoyi, Bram Fischer, Nelson Mandela, Albertina and Walter Sisulu and Oliver Tambo - the commitment to freedom was not based purely on logic, or on an understanding of some theory of the workings of apartheid and strategies for defeating it.
They also invested their passion and compassion, based on linking their fate to all who suffered oppression, in taking up the struggle. They augmented their theoretical understanding of how they would combat apartheid with unshakable wills that prepared them to offer their lives for the struggle.
We need to recover that sense of passion, that sense of outrage that is channelled into acting to recover and advance our freedom.
The oppression of apartheid was experienced on the factory floor, amongst the unemployed, the landless, the youth, the students and wherever people existed in South Africa. The alliance of forces that combined to defeat apartheid rule derived from a range of sectors and classes.
Likewise, the attacks by the current Zuma-led ANC and government are felt amongst organised workers - but also by women, the landless, the shack dwellers, the informal workers, the foreign migrants, those who are attacked because of the sexuality they pursue and many others. They are also experienced by business, which has to try to function within a climate that is hostile to stable operations.
We need to build unity among those who experience violence, irregularity and lack of access to basic needs, drawing together all who seek basic requirements for decent, healthy existence, all who long for a sense of peace and all who need observance of legality to prevail in order to pursue their livelihoods.
We should not pick and choose amongst those who are suffering, but try to encompass within a unifying vision and an agreed programme all who have an interest in restoring legality and clean government and ending the current violence and corruption. That will be part of the route that is needed to rebuild the democratic vision to which many are committed.
Professor Raymond Suttner, attached to Rhodes University and UNISA spent over eleven years as a political prisoner or under house arrest. His book Recovering democracy in South Africa has just been published by Jacana Media. He blogs at raymondsuttner.com. His twitter handle is @raymondsuttner