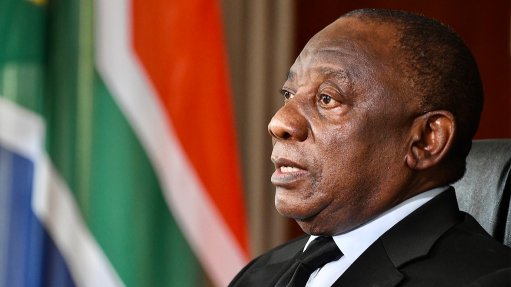 President Cyril Ramaphosa
Most stakeholders agree with President Cyril Ramaphosa's four overriding priorities of defeating Covid-19, accelerating economic recovery and reform to drive inclusive growth, and fighting corruption.
However, Business Leadership South Africa (BLSA), for one, would have liked the President to have been able to announce the completion of the auction of additional spectrum and the launch of bid window five (BW5) of the Renewable Energy Independent Power Producer Procurement Programme by now – both of which were promised in last year's State of the Nation (SoNA) address.
BLSA welcomed government's clear vaccination plan, with a timetable to getting the pandemic under control, as well as the President's specifics regarding procurement of vaccines.
However, the organisation yearned for more detail on the logistical plans for the roll-out, which the business community intends to assist with.
"We agree with Ramaphosa that infrastructure is a critical plank of economic recovery, but we are concerned that the reality has been continued declines in infrastructure spending across the public sector.
"State-owned enterprises spend 30% less as a percentage of gross domestic product than five years ago, while general government spending on infrastructure has fallen by 18%."
BLSA pointed out that Ramaphosa made no mention of reforms to the key legislation and regulations that currently govern infrastructure procurement, such as the Public Finance Management Act and a framework for public-private partnerships, even though these are [mentioned] in the Economic Reconstruction and Recovery Plan.
There was also little discussion of opportunities to stimulate private sector investment, such as resolving long outstanding policy uncertainty in the mining sector that is constraining exploration spend.
"This is infrastructure spending that government could have for free, if the policy environment was fixed," BLSA argued.
Another positive step is the President's commitment to amend Schedule 2 of the Electricity Regulation Act within the next three months to increase the licensing threshold for embedded generation.
"This is another change that could immediately lead to an increase in private sector investment as many companies would be able to quickly begin projects to generate their own electricity.
"However, we do not believe it is necessary to consult on the threshold this should apply to. Eskom CEO Andre de Ruyter has said he believes 50 MW is an appropriate level, and business agrees. Consultation means further delays," BLSA stated.
Research house Intellidex capital markets research head Peter Attard Montalto weighed in, cautioning that current delivery on infrastructure is at odds with the sense of urgency on the ground of banks and asset managers who feel a deep frustration; and pointing to the Infrastructure Fund not existing as a pot of money but as "a marketing wrapper around a wide and disparate set of actual and potential line department and lower levels of government appropriations on infrastructure – which gives a sense of being divorced from current reality".
"This is a key risk, especially with the Budget coming up. For instance, the references to infrastructure spend and the Presidential employment stimulus plan can both fall flat quickly as the Budget cuts spending on both.
"Actual forward-looking commitments were important and specific but not new and limited in scope. As such, a sense of momentum and acceleration was lacking overall, with the exception of energy. Some of this was understandable given the capacity constraints, but there were also too many generalities especially a huge number of commitments to 'capacitate' this that and the other when one wonders where such people will come from," Montalto said.
In terms of energy, he added that the "bingo moment" on a new 50 MW threshold for exemption from National Energy Regulator of South Africa licensing, which has been canvassed in the business sector, was somewhat muffled and without the reference to a specific level, which Intellidex hoped would be addressed in the Budget Speech in three weeks' time.
"There was a clear commitment to procure more energy through 11.8 GW of procurement this year, but this glosses over that some of that as gas is challenging and the coal is impossible.
"Equally, the references to BW5 and the Risk Mitigation Independent Power Producer Procurement Programme risk glossing over serious delays currently on technical issues such as grid access and local content. It is still a failure that BW5 could not be launched by SoNA."
In nonprofit organisation Sakeliga's view, the SoNA did not include the required structural reforms and the organisation would have liked the President to have outlined an alternative vision of less politics and more business; but instead, the President recommitted his government to "more of the same".
"Entrepreneurs' right to free commercial activity is restricted at almost every conceivable level, to the detriment of employees, consumers and the public. From ownership to appointments, to wages and suppliers and tender opportunities – this is all regulated by black economic empowerment and much more.
"Meanwhile, proposed constitutional amendments to allow for expropriation without compensation, too, gravely threatens property rights. These restrictions do not simply hinder domestic business, but disincentivise international investment," Sakeliga averred.
The organisation added that it was remarkable how the President acknowledged the private sector as the greatest creator of employment, but then excluded many unemployed people by allowing the minimum wage in the private sector to be set at double that of the public sector.
Moreover, Sakeliga CEO Pieter le Roux pointed out that the SoNA implied a budget with increased deficits, instead of the balanced one as required for fiscal stabilisation.
He was positive, however, about government's commitment to lift some restrictions on private electricity generation within three months. "But even here, government could not commit itself to real decentralisation, since the lifting of restrictions will apparently only apply on condition that electricity remains embedded on the existing grid, instead of also distributed through private connections".
The South African Wind Energy Association was happy to hear Ramaphosa's announcement of two bidding rounds, which will collectively procure 2 600 MW this year, which would result in substantial new wind power generation capacity in South Africa.
"In addition to driving energy security, by opening two new windows, this year the President has reminded us that we cannot lose sight of the threat that climate change poses to our environmental health, socioeconomic development and economic growth," said CEO Ntombifuthi Ntuli.
The South African Photovoltaic Industry Association (Sapvia) stated that the Mineral Resources and Energy Minister must now move with urgency to roll out the objectives identified in SoNA. "We would welcome clear timelines and dates from the Minister, announcement of preferred bidders for the emergency energy programme, the announcement of BW5, and the easing of distributed generation regulations."
Sapvia also welcomed the comments made by the President calling for policy and regulatory action in support of an increased distributed generation licence exemption cap, which is to be implemented in the next three months. "Increased deployment of distributed generation will release the pressure on Eskom's already constrained supply and provide the much-needed additional capacity to the grid," said Sapvia COO Nivesh Govender.
SOCIAL MATTERS
The SoNA was positively received by the United Nations (UN) in South Africa, with resident coordinator Nardos Bekele-Thomas applauding the President for his commitment to the Paris Agreement and the reduction of greenhouse-gas emissions, as well as increasing renewables into South Africa's energy mix.
"We are encouraged by the establishment of the Presidential Coordinating Commission on Climate Change and we look forward to future engagements with the United Nations as part of our collective efforts to combat this threat.
"The UN strongly agrees with the President's view that corruption is one of the greatest impediments to the country's growth and development and keenly anticipates the appointment of members to the Anti-Corruption Advisory Council."
Ramaphosa reiterated his commitment to end gender-based violence, in line with his many initiatives undertaken thus far. The UN said it would continue to provide support on this critical issue.
Greenpeace Africa, meanwhile, said that 2 600 MW of renewable energy was still not ambitious enough to fix a broken system and that, while it was heartening to hear the President acknowledge the existential threat of climate change, he seemed unaware that Environment, Forestry and Fisheries Minister Barbara Creecy had "other ideas" for South Africa's air and climate.
The organisation said that every urgency applied by the government to recovering from Covid-19 must be applied to a just transition towards renewable energy, especially considering South Africa had ranked as the worst carbon performer in the Group of 20 countries, in 2019.
"If the President is as serious as he says about reform, the legacy of coal addiction and the exclusion of low-income black communities affected by the impacts of coal must stop.
"Communities that bear the brunt of extreme weather events such as cyclone Eloise and environmental crimes must be included in the decision-making process," said climate and energy campaigner Nhlanhla Sibisi.