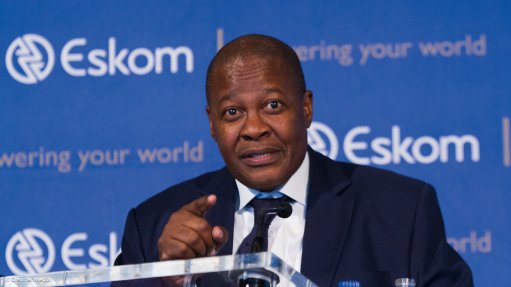 Eskom CEO Brian Molefe
Photo by: Duane Daws
Eskom CEO Brian Molefe has indicated that he is weighing his future options as head of the State-owned electricity producer following the release of a Public Protector report, which raises serious questions about his role in facilitating a coal deal involving Tegeta, a mining company linked to the Gupta family. He also indicated that he was likely to take the report on judicial review, arguing that he had never been given a chance to present his version of events.
The report by former Public Protector advocate Thuli Madonsela highlights a seemingly close relationship between Molefe and the Gupta family, with cellphone records showing that, between the period August 2, 2015, and March 22, 2016, he called Ajay Gupta 44 times and Gupta called Molefe 14 times. It also observes that the sole purpose of awarding contracts to Tegeta to supply Arnot power station was to fund Tegeta and enable it to purchase all shares in Optimum Coal Holdings (OCH), a company owned by mining giant Glencore.
The report, titled the 'State of Capture', recommends that President Jacob Zuma convene a commission of inquiry within 30 days, which should be led by a judge selected by Chief Justice Mogoeng Mogoeng. The commission should complete its task and present the report with findings and recommendations to the President within 180 days.
In an emotional statement made during the group's interim results presentation on Thursday, Molefe said he took full responsibility for a decision to reject Glencore's 2015 approach for a renegotiation of a R150/t coal supply agreement from the Optimum mine to Eskom's Hendrina power station.
In a high-profile battle, Eskom spurned Glencore's argument that the contract was onerous and that the price should, thus, be increased to R530/t ahead of the expiry of the contract in 2018. The utility argued that it did not have the financial wherewithal at the time to entertain the increase. Glencore subsequently placed the mine into business rescue and the asset was later controversially purchased by Tegeta, after receiving prepayment from Eskom – funding that the Public Protector report suggests was deployed to facilitate the broader OCH transaction by Tegeta.
The report states that Eskom's prepayment to Tegeta of R659 558 079 may not have been in line with the Public Finance Management Act, as evidenced in the business rescue practitioner's Section 34 report for Optimum mine.
Molefe dismissed suggestions that the board should resign over the matter. "I will take responsibility as the CEO. I will go to the commission of inquiry and we will even ask for judicial review of the Public Protector report," he said.
He also rejected calls for Zuma and Public Enterprises Minister Lynne Brown to resign over the report. "I also don't think that the President should resign because we decided not to give Glencore R530/t, when we had a contract for R150/t. The President did not even know anything about it as far as I'm concerned and calls for his resignation I think are out of line – I will resign before he does."
Regarding his own position at Eskom, Molefe said: "I will weigh my options". However, he added that, after agonising all Wednesday night over the report, he could not see what he would have done differently.
'DEADLY BLOW'
A clearly angry Eskom chairperson, Dr Ben Ngubane, jumped to Molefe's defence saying that, should Molefe resign then "Thuli Madonsela has stuck a deadly blow against Eskom and the people of South Africa. If we lose Brian she should take the blame".
Ngubane also described as "crazy" calls for the board to be dissolved based on the "speculation" in the Public Protector's report.
Molefe expressed strong displeasure with the way Madonsela had handled the investigation, arguing that he was never given an opportunity to provide Eskom's side of the story.
"My gripe with the whole situation is that the Public Protector never called me, or Mr Anoj Singh [Eskom CFO] to come and give our version of events. She asked for files, we gave her 120 files in 13 boxes . . . She subpoenaed us and we had a date with her to come and explain what was happening . . . she cancelled the meeting. We never appeared in front of the Public Protector."
Instead, questions were sent to which Eskom responded in writing. In addition, "substantive" information on a controversial prepayment arrangement for Tegeta coal had been provided the day before Madonsela finalised the report.
"The Public Protector has painted me with a corrupt brush. There will be a commission of inquiry established six months from now [and] we will get results maybe 18- or 24-months from now. During that period, my children will be taunted at school – your father's corrupt, your father's corrupt."
"But what pains me the most is that I never had the opportunity to explain what I am saying now to Advocate Madonsela."
The Times reports that Madonsela saw Molefe's emotional outburst as an attempt at casting himself as a "victim" rather than answering hard questions about his relationship with the Guptas and the R660-million prepayment to Tegeta.