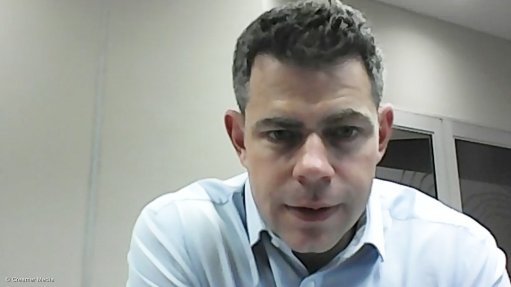 Cobus Loots
Photo by: Creamer Media
JOHANNESBURG (miningweekly.com) – What is expected to be South Africa's least complicated underground gold mine is on the way at Evander, Mpumalanga, in the form of the Egoli gold project.
Planning to bring the low-capital quick-return project to life is Pan African Resources, the London-, Johannesburg- and New York-listed midtier gold mining company, which is developing an ever-lengthening track record for on-schedule and on-budget organic growth projects that pay for themselves in next to no time. (Also watch attached Creamer Media video.)
"Certainly, the near-term growth that we're now focusing on is the Egoli project at Evander, which is effectively a brownfields project that will take us about 20 months, from when we push the button, to get to first gold, with steady state in 36 months and life-of-mine initially nine years," Pan African CEO Cobus Loots told Mining Weekly in a Zoom interview, following the company's presentation of outstanding results, highlighted by the proposing of a record final dividend of R312.9-million.
The Egoli feasibility study calculates that Egoli will operate at a mouth-watering all-in sustaining cost of $777/oz.
Egoli requires a materially lower capital investment when benchmarked against other development projects of a similar scale. Payback from inception is 3.8 years on a net present value of R2-billion. An internal rate of return of 50.1% will be achieved on a gold price of $1 650/oz and peak funding is calculated at R1.05-billion.
The recovered grade of 5.2 g/t will yield 570 000 oz over nine years and provide employment for 1 200 people.
"We don't have to take risk on the sinking of a vertical shaft. We have a twin shaft system to 1 600 m. We have a processing plant for the material mined. Currently, at Kinross we're processing 50 000 t of material a month. So, the capacity is there. We have the haulage. So, effectively it's about dewatering, re-equipping of the decline, and then developing into the orebody.
"We like to think that once Egoli is up and running, it'll probably be South Africa's least complicated underground gold mine and it will come into its own as we wind down on the 8 Shaft pillar, and that's going to take us close to 250 000 oz," said Loots.
In the 12 months to June 30, Pan African produced 179 457 oz of gold and is guiding a production of 190 000 oz of gold for financial year 2021.
"We need to produce those ounces at a proper margin so we're targeting sub-$1 000/oz, which is certainly achievable in our view," said Loots.
The Egoli feasibility study's successful completion has been accompanied by credit approval from Rand Merchant Bank for the full debt funding of the project's capital expenditure.
"Clearly, our other focus is the resumption of the dividends and it's quite a large dividend. It's the best dividend we've ever paid. That's despite the Covid losses and demonstrates the confidence we have in our position now in the year ahead.
"We have a great portfolio of existing assets, specifically the performance from our Elikhulu Tailings Retreatment Plant was excellent, despite the Covid impact. We had 60 000 oz from there," he said.
"The Barberton underground is really nicely positioned for the year ahead. It's the first time in many years that we actually have four production platforms at Fairview in the next year. So that puts us in a very good space.
"The Barberton Tailings Retreatment Plant (BTRP) had good margins and great delivery. The Evander 8 Shaft pillar has come into its own. It was difficult during Covid but things are looking very good in terms of 8 Shaft," Loots said.
ELIKHULU SET TO PERFORM EVEN BETTER
The nice thing about Elikhulu coming in at slightly over $600/oz was that it was at a much lower rand exchange rate. "So, at the prevailing rates, the number could be even better," Loots said.
Elikhulu employs 418 people and has a 12-year life still remaining. A four-year payback was initially expected but it is heading towards being half that at the current gold price. Payback is now likely by June 30.
ENVIRONMENTAL, SOCIAL AND GOVERNANCE
Pan African has prioritised its environmental, social and governance (ESG) initiatives as evidenced by its solar power approvals, the significant level of rehabilitation expenditure, and board approval for the implementation of several sustainable development projects.
On the company's ESG initiatives, including community blueberry cultivation, Loots said: "Agriculturally, Barberton is one of the best places in South Africa. There's much fertile mine land lying fallow and it needs to be put to good use. We're very cognisant that most of these projects in the past have failed. That's because of a lack of focus. Mining companies shouldn't be doing agriculture because that's not what we do. So, we're partnering with an experienced team that have established agricultural operations and I actually look forward to launching properly when we're allowed to do so in terms of gatherings during Covid. But it's not going to lose money for Pan African. We need to do good, we need the people in our areas to be able to earn a living but not at the expense of the mining operation," he said.
On the company's reputation in skills training, he said: "We've been doing skills development for many years. We have a number of projects that are ongoing both at Evander and Barberton. If you look at the construction of Elikhulu, a number of local contractors were involved. It's an ongoing process for us but we can always do more and that's what we're looking to do.
"Clearly, the fact that we source 50% of our production from tailings dumps on surface is a big environmental plus and the fact that we're able to clean up these historical tailings footprints as we go along is massive plus. Once refurbished and rehabilitated, some of the land can be used for agriculture and other development," Loots added.
MINERAL RESOURCES AND RESERVES
The group's mineral resources increased by 5% year-on-year, mainly owing to cutoff grade changes at Evander Mines, an optimised mining method at Royal Sheba mine and additional mineral resource blocks at Fairview mine. The changes in the cutoff grade are affected by the higher gold price used in the cutoff grade estimations, relative to previous declarations.
Mineral reserves decreased marginally, year-on-year, with a decrease of 0.5% recorded. This is inclusive of 169 000 oz depleted from the reserves owing to mining and processing, and excludes unaccounted-for surface sources. The resources, reserves and production targets for the group are supported by long-life robust assets including Fairview's remaining life of 20 years, and the Sheba mine and Royal Sheba project combined also represent a 20-year life.
New Consort mine and BTRP have remaining lives of eight years and six years respectively, and access to long-life organic growth projects such as Egoli, Rolspruit, Poplar and others form the basis of a strong foundation of more than 14 years.