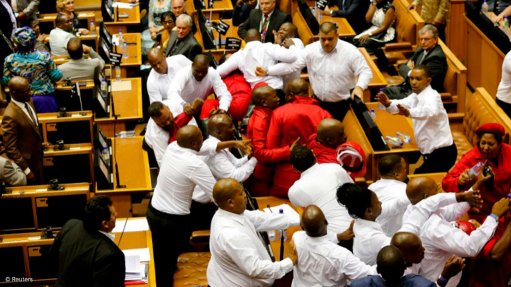 Photo by: Reuters
Parliament has referred the physical removal of Congress of the People (Cope) MP Willie Madisha and the violent ejection of Economic Freedom FIghters (EFF) members to the joint rules committee.
Madisha was the first to be removed by Parliament's "bouncers" during President Jacob Zuma's State of the Nation Address on Thursday.
His removal was quickly followed by a brawl between EFF members and parliament protection services members when the party refused to let Zuma address the MPs.
According to Parliamentary rules, the removed MPs are suspended for five working days.
During this time, they may not enter the precincts of Parliament until the suspension is completed.
Speaker Baleka Mbete and National Council of Provinces chairperson Thandi Modise announced the referral in Parliament's Announcements, Tablings and Committee [ATC] reports, published on Monday.
"The circumstances of the physical removal of Mr W M Madisha (Cope) and members of the Economic Freedom Fighters from the Joint Sitting during the state-of-the-nation address on Thursday, 09 February 2017, together with the unrevised Hansard, minutes and a video recording of the proceedings in question have been referred to the Joint Rules Committee in terms of Joint Rule 14GA (13) for consideration," the principals said in the announcement.
On Friday, Parliament said eight protection services officials were injured during the scuffle with EFF MPs.
Following the violence, secretary to Parliament Gengezi Mgidlana established an inter-divisional committee to investigate various allegations around the incident.
He is due to submit a report on the matter to Parliament this week.