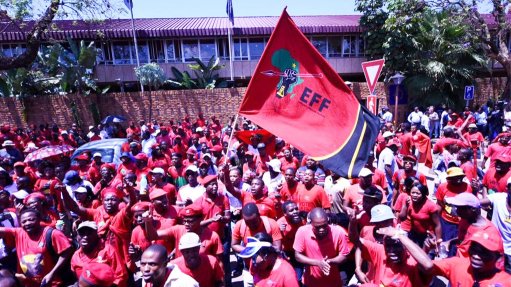 The Economic Freedom Fighters in KwaZulu-Natal notes with dismay the news of the re-emergence of former EThekwini Municipality Supply Chain Management Deputy Head Sandile Ngcobo, who is to assume another position amid a cloud of a tender corruption case that continues to hang over his head.
Ngcobo who is out on bail for the Durban Solid Waste (DSW) tender fraud case alongside co- accused former EThekwini Municipality Mayor Zandile Gumede is expected to assume his new position in another division on 01 October 2020.
While it has become a norm for the ruling party to bring back all the 'rotten potatoes' into positions of power, we would like to issue a stern warning that this time around our words will actually become actions.
As the EFF in KZN we would like to make a promise that come what may, if the decision is not reversed, we are going to shutdown the Durban City Hall on Thursday, 01 October 2020. We therefore call for the decision to be revoked with immediate effect pending the outcome of the investigation. We further call on EThekwini residents and ratepayers to join us at the Durban City hall at 7am on Thursday as we march against corruption.
Issued by The Economic Freedom Fighters in KwaZulu-Natal