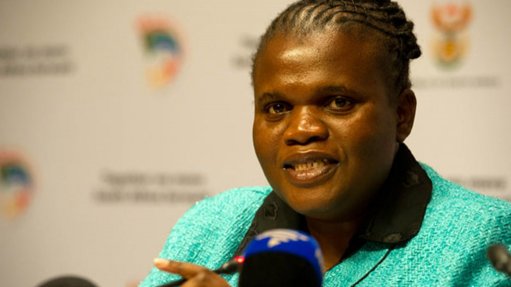 Pubic Service and Administration Minister Faith Muthambi
Photo by: GCIS
The Minister for the Public Service and Administration, Ms Faith Muthambi welcomes the judgement handed by the Constitutional Court on 7 December 2017 in the matter of Public Servants Association Obo Olifunmilayi Itunu Ubogu v Head of Department of Health, Gauteng and Others [2017] ZACC 45.
The Constitutional Court in this matter ruled and declared Section 38(2)(b)(i) of the Public Service Act, 1994 as unconstitutional. Section 38(2)(b)(i) of the Public Service Act permitted the state, as an employer to recover any overpayment made to an employee without the employee's consent or following due process.
Minister Muthambi's position on this matter is informed by her belief in the principle of fairness that says "Nothing about us, without us". Central to this is the understanding that it cannot be correct to take decisions and actions on behalf of people, in this instance, public servants without their consent or following a due process. This is a cardinal principle of justice and fairness.
To this end, Minister Muthambi was always convinced that the Constitutional Court would arrive at the same position. It is worth stating that the Minister could not intervene in the case since the matter was already advanced in the court process and further that the case predates her assumption of duty as the Minister for the Public Service and Administration.
For Minister Muthambi, the Constitutional Court judgement is a welcome relief for many public servants who in most instances found themselves unable to address some of the injustices caused by mangers in the system.
Minister Muthambi will, henceforth direct the Department to begin urgently with processes of amending section 38(2)(b)(ii) of the Public Service Act in compliance with the Constitutional Court judgement. In the meantime Minister Muthambi urges departments to not use the provisions of section 38(2)(b)(i) of the Public Service Act to recover overpayments from employees.
Issued by Department of Public Service and Administration