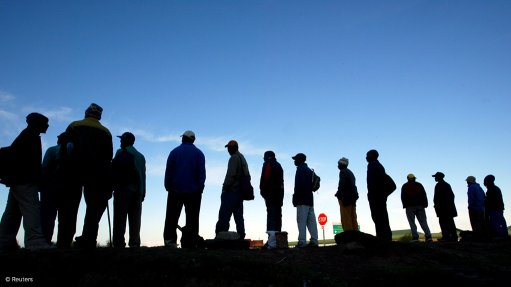 Photo by: Reuters
South Africa's inability to predict future trends has made it hard to identify some high-demand skills that are needed to promote employment, according to Professor Nadine Petersen, Executive Dean of the Faculty of Education at the University of Johannesburg.
Petersen was speaking to News24 about students who enroll to study oversubscribed courses that contribute to the country's high unemployment rate.
During a recent media briefing on the state of readiness for the post-school education and training sector 2023 academic year, Minister of Higher Education, Science and Innovation Blade Nzimande said first-time entering enrolments were projected at 208 299 nationally.
Of the first-time entering enrolments, "69 069 will be within scarce skills areas and have been projected as follows: Engineering: 17 085; life and physical science: 17 584; animal sciences: 985; veterinary sciences: 209; human health: 10 418 and teacher education: 22 788," Nzimande said.
Petersen expressed great concern about students who enroll to study oversubscribed courses, "especially because universities are liable to train students for future employment".
"A lot of the work rests on us as universities to create pathways for students that will lead to job creation or give them the skills that they require for the new world," she added.
While it might be easy to put the responsibility on universities, Petersen said the country should start predicting future trends so that it's easy to notice the careers that are needed in the future so that universities can focus on developing experts in information technology, teaching, accounting, economics and entrepreneurship.
University of Pretoria Dean of the Faculty of Education, Professor Chika Sehoole, echoed Petersen's sentiments and argued that a failure to predict future trends would leave the country at a point where it does not know what to do next.
"We need people at the higher end who can be able to think about the future of this country and the future of our economy," he said.
Sehoole said that besides planning, it was also students' responsibility to look at the needs of the country before rushing off to university to study oversubscribed courses.
He said many students go to university because of the status that comes with being there, instead of looking deeper at the skills that are needed.
According to Sehoole, there is a high demand for vocational skills in South Africa; including technicians, plumbers, electricians and engineers.
"Those are the kind of skills that are needed to drive the economy. On the other end, we also need... teachers who can go into schools and deliver quality education, based on the quality training from the district."
However, University of Johannesburg Professor Jaqueline Batchelor had a different view.
Batchelor, who is at the education faculty's Department of Science and Technology, said the occupational space changes as the world continues to change, but added that it did not mean some courses should be disregarded.
"There are some university courses that are occupationally specific, like legal, accounting, teaching and medicine, and there are some courses that are actually about deepening your understanding of the world, and they are not to be discounted because they do not lead to a job.
"To view education is like a one-to-one correspondence between what you study and the job, which narrows the field of human learning and the qualities that we need for the 21st century that is going to be more about the ability to reason."
Batchelor's view was that the focus should be on labour absorption capacity.
"The fundament issue lies in the labour absorption capacity of our economy. There are many unemployed people who have [studied] law or medicine. So, the saying 'you will be certain to get a job if you do this' is never [ideal]," she said.