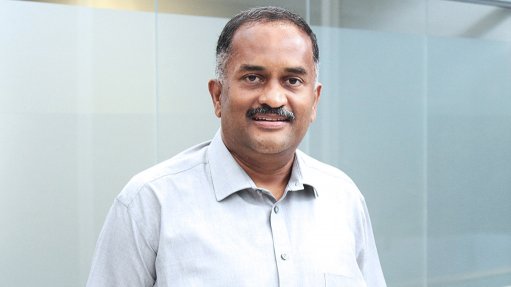 Babcock Ntuthuko Engineering CEO Thava Govender
Amid rising public anxiety over the prospect of a blackout, a former senior Eskom executive has added his voice to those highlighting the low probability of such an eventuality. However, he also argues that, given current fears over a grid collapse, the State-owned utility's well-developed contingency plans should be complemented by a clear country plan for navigating such a scenario.
Babcock Ntuthuko Engineering CEO Thava Govender, who spent 29 years at Eskom where he acted as group executive for both generation and transmission, describes as a "myth" arguments that higher stages of loadshedding increase the prospect of a blackout.
"It is actually the opposite, because the system operator is taking proactive measures to prevent a blackout. So, and I need to say this quite clearly and unequivocally: loadshedding is not an indication of an impending blackout".
He also argues that preparing for higher stages of loadshedding, as is proposed through the current review of the code governing such rotational cuts, whereby the current eight stages of loadshedding is expected to be increased to 16, could help add further safeguards for preventing a blackout.
Govender, thus, concurs with recent statements by the leadership of the State-owned utility dismissing social media posts suggesting an "imminent collapse of the national electricity grid".
"The risk of a national blackout, while inherent to the operation of a large power system, has an extremely low likelihood of materialising given the implementation of a number of control measures, including loadshedding," Eskom said in a recent statement, while acknowledging that it was possible that it may need to declare Stage 8 loadshedding this winter to maintain system balance in a context of rising demand and insufficient supply.
Govender also stresses that Eskom has protocols and systems in place, including stress-tested black-start protocols, should the worst-case scenario occur.
Such a scenario would arise should the frequency of the system, which is designed to operate at 50 Hz, decay to 47 Hz.
At such a frequency, all the generators would begin tripping and separating themselves from the grid, but Govender stresses that the system operator has a number of automated guardrails to prevent such a decay, with the 49.2 Hz level having not been breached since September 2015.
As the largest producer in the region, there is no prospect of repowering the South African grid by using transnational interconnectors.
Therefore, Eskom has three black-start facilities, the identities of which are not disclosed for security reasons, that will be used to begin the process of restoring the grid.
In a case where several generators have separated from grid but are "islanding" (continuing to generate and sustain auxiliary services) the restoration could take less than six days. Should all the units trip, however, restoration could take up to two weeks.
"So, while the probability of having a blackout in South Africa is low, if it does happen, it will have a very high impact."
For this reason, Govender believes a country plan should be urgently developed to ensure that all eventualities are considered in the event of a blackout.
"In my opinion, I think Eskom has got all the plans in place to make sure there's either no blackout, or that it can recover from a blackout.
"I've gone through them, and I've witnessed them during my tenure at Eskom.
"But does the country South Africa have a plan for a blackout?
"The answer in my opinion is no, we don't have a coherent plan."
Govender says international experience shows that much can go wrong during a blackout, given that security and telecoms systems are unable to operate fully without power.
"From a country perspective, such a plan would be about equipping all the emergency services – the police, the medical teams and the army – with clear plans and backup generation.
"Ideally, you'd want all those to automatically go on to backup either via battery backup or diesel generators," he says, adding that such a country plan would also bolster confidence among citizens, as it would signal that government is prepared for any eventuality.
It is understood that the National Energy Crisis Committee is working on such a plan, but it has not yet been communicated.
Govender says that, besides preparing for all eventualities, it is also vital that there be an "all hands on deck" approach to addressing maintenance backlogs across Eskom's coal fleet, whose improved performance is key to stabilising the system.
"I think the there's a lot of skill in this country.
"It's about getting competent contractors and competent suppliers to help Eskom deal with its challenges," Govender says.