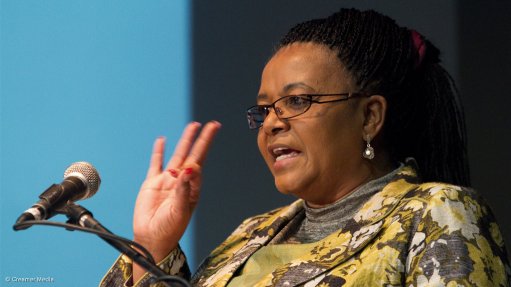 Environmental Affairs Minister Edna Molewa
Photo by: Duane
The Minister of Environmental Affairs, Dr Edna Molewa and the Lao People's Democratic Republic Minister of Natural Resources and Environment, H.E Sommad Pholsena, have signed a Memorandum of Understanding (MoU) on Cooperation in the Field of Biodiversity Conservation and Protection, yesterday, 25 September 2016.
The MoU aims to promote cooperation between the countries in the field of biodiversity management, conservation and protection, law enforcement, Conventions on the basis of equality and mutual benefit. It also seeks to support compliance with and enforcement of the principles of the Convention on Biological Diversity and the Convention on the International Trade in Endangered Species of Wild Fauna and Flora (CITES).
The Lao People's Democratic Republic (PDR) is one of the key East Asian countries that South Africa views to be crucial in efforts to curb the scourge of wildlife crimes, particularly rhino poaching. It is for this reason that in May 2013, the Department of Environmental Affairs (DEA) undertook a working visit Thailand, Laos and Cambodia and initiated engagements on strengthening cooperation on addressing the illegal trade in wildlife.
These engagements ensued in the development of an MoU focusing on Biodiversity Conservation and Protection between South Africa and the Lao PDR.
Speaking during the signing of the MoU, Minister Edna Molewa said that, "South Africa regards rhino poaching and illicit trafficking in wildlife and endangered species as part of the new and emerging forms of crime, such as illicit mining and trafficking in precious metals, which also require global attention if we are to effectively deal with these crimes.''
The signing of the MoU will be accompanied by the endorsement of an Implementation Plan putting into immediate action concrete steps to, among others, eradicate wildlife crimes through government-to-government and security initiatives, educate the public and raise awareness.
Issued by Department of Environmental Affairs