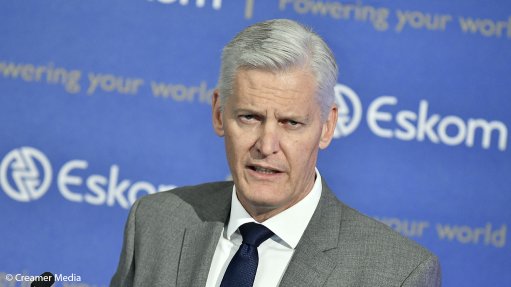 Eskom CEO Andre de Ruyter
Photo by: Donna Slater
The effects of Eskom's maintenance programme - which is expected to ease the risk of load-shedding would be felt by April next year as the power utility works to ensure the long-term sustainability of its infrastructure, its CEO Andre de Ruyter said on Thursday.
"We anticipate that by April next year we will see the first benefits of enhanced maintenance," said De Ruyter, adding that by September 2021, the power utility would have significantly reduced the risk of load-shedding.
"By September of next year, we will have significantly reduced, but not eliminated, the risk of load-shedding," he added.
De Ruyter, who took over as Eskom CEO in January, was speaking at the Joburg Indaba, a gathering of mining industry business leaders and investors. He acknowledged that power cuts had been a drag on SA's economic recovery and that a stable electricity supply was critical to investor confidence.
Executives at the two-day event, which ended Thursday, discussed the importance of a uninterrupted energy supply to the mining sector, one of SA's largest users of electricity.
Eskom has been battling intermittent spells of load-shedding for 13 years and is currently implementing its latest five-point turnaround strategy which is focused on ensuring stable power while improving the company's grim finances. The utility is struggling with a debt burden of near R480-billion, and has not been making enough profit from selling electricity to cover the interest in the debt.
De Ruyter said Eskom's revenue challenges are the result of lower sales volumes of 1% per year over the past 10 years, as well as the non-cost-reflective tariff increases granted by the National Energy Regulator of South Africa (Nersa).
This week, the energy regulator was granted leave to appeal a high court ruling which had set aside its 2019 decision on Eskom tariffs, in what is likely to frustrate the power utility's revenue collection efforts. This came after the Gauteng High Court in Johannesburg reviewed and set aside a decision by Nersa to deduct a R69-billion equity injection from government as part of the power utility's allowable revenue for three years - 2019/20, 2020/21 and 2021/22.
The initial ruling had ordered Nersa to reinstate the full amount to Eskom revenue for the next three years, which would have substantially increased the utility's revenues.
In his address on Thursday, De Ruyter said Eskom did not want to battle in court with the regulator, and was looking forward to legislative changes to allow for a "less adversarial approach to resolving our differences".
"As we appeal for cost reflective tariffs, we also have an obligation to manage our costs properly and in a disciplined manner. We therefore don't ask for tariffs to subsidise our inefficiencies, we ask for tariffs that reflect reasonably incurred costs."