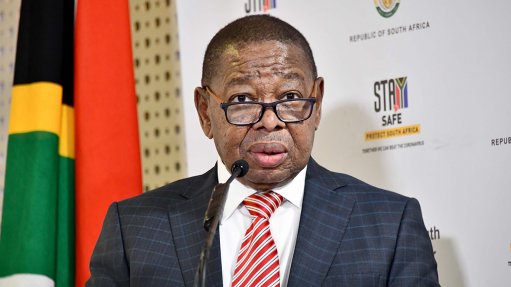 Higher Education, Science and Innovation Minister Blade Nzimande
For Creamer Media in Johannesburg, I'm Leah Shelene Asaram
Making headlines: Ramaphosa say harnessing momentum of economic recovery requires strong and efficient local govt, Blade Nzimande welcomes SIU probe into NSFAS allegations and, Eskom to miss deadline to finalise annual financial statements
Ramaphosa say harnessing momentum of economic recovery requires strong and efficient local govt
If government is to harness the momentum of economic recovery that new investments signal, local government must be strong, efficient, capable and well-run.
This was according to President Cyril Ramaphosa today when he addressed day two of the Local Government Summit, hosted the Department of Cooperative Governance and Traditional Affairs.
He said as the country grapples with poverty, unemployment and inequality, it is vital that government attend to local economic development in a more focused and practical manner.

Ramaphosa says accelerating economic growth, attracting investment and creating jobs must be at the centre of the efforts of all spheres government.
Blade Nzimande welcomes SIU probe into NSFAS allegations
Higher Education, Science and Innovation Minister Blade Nzimande says the National Student Financial Aid Scheme is committed to cooperating with a Special Investigating Unit probe into corruption allegations against it.
Nzimande said the misappropriation of funds at the scheme would threaten the provision of funds to eligible poor students, and added that officials who are found guilty must face the music.
Last month, the SIU announced its investigation after President Cyril Ramaphosa authorised the probe into corruption and maladministration, among other allegations.
Eskom to miss deadline to finalise annual financial statements
Public Enterprises Minister Pravin Gordhan has told Parliament that Eskom will not finalise its annual financial statements by the statutory deadline of September 30 due to "significant key matters" that will take some time to close out with auditors.
Two other entities reporting to Gordhan – Denel and Alexkor will also miss the deadline to finalise and submit their annual financial statements.
Gordhan says he cannot comply with the Public Finance Management Act's requirement that annual financial statements and reports are tabled within six months of the end of the financial year.
In the case of Eskom, Gordhan says he expects the annual report to be finalised by the end of October or the beginning of November. Gordhan says as the previous year's audit ended late and Eskom had to change auditors, the audit for 2022 started late.
That's a roundup of news making headlines today
Don't forget to follow us on Twitter [@PolityZA]