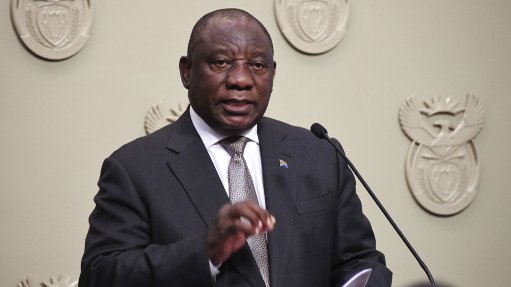 President Cyril Ramaphosa
October 10, 2022.
For Creamer Media in Johannesburg, I'm Sabrina Jardim.
Making headlines:
Ramaphosa trumpets early childhood development centres as 'an important part of the care economy'
Suspended Pretoria chief magistrate Desmond Nair in the dock on corruption charge linked to Bosasa
And, business says urgent action needed as Transnet strike hits ports with billions on the line
President Cyril Ramaphosa says early childhood development centres play a pivotal role in the country's development.
In his weekly newsletter, Ramaphosa said he attended the opening of the Little Flower early childhood development centre in Bizana in the Eastern Cape last week.
There, he said he got to spend time with some of the country's future leaders, reading to them and listening to them.
Impande South Africa recently built the centre through the support of the Nelson Mandela Foundation.
He said government, the private sector and development organisations, must continue to support early childhood development.
Suspended Pretoria chief magistrate Desmond Nair will be making representations as to why he should not be prosecuted on a corruption charge after allegedly accepting a bribe from services company African Global Operations, formerly known as Bosasa.
Nair, who has spent most of his career looking down at the dock, found himself in the hot seat at the Pretoria Specialised Commercial Crimes Court this morning.
Nair's lawyer, advocate Danie Dörfling, told the court they would be making representations as to why his client should not be prosecuted.
He placed it on record that the representations would be submitted to the National Director of Public Prosecutions by 16 November.
Dörfling said the NDPP was expected to make a decision and communicate said decision by 2 December.
The case was subsequently postponed to 7 December, and Nair was warned to appear in court.
While Transnet has maintained that its terminals at ports have not come to a standstill, logistics businesses have warned of a catastrophic economic fallout if operations at the State-owned logistics giant's ports in Durban and Cape Town face prolonged suspension.
As the strike by labour at Transnet gets into full swing on Monday morning, the industrial action has set off jitters that bottlenecks will occur at the ports, costing businesses and the economy billions.
The United National Transport Union and the South Africa Transport and Allied Workers Union served Transnet with notice of a strike, with UNTU kicking off its strike last Thursday and Satawu downing tools on Monday.
Meanwhile, Anglo American subsidiary, Kumba Iron Ore, warned that its production will be hit by the strike at Transnet. The company warned that disruptions would have an estimated impact of approximately 50 000 tons per day on production for the first week and approximately 90 000 tons per day thereafter.
Road Freight Association CEO Gavin Kelly said that as far as he was aware "there was no movement of trade" at the ports.
That's a roundup of news making headlines today
Don't forget to follow us on Twitter [@Polity ZA]