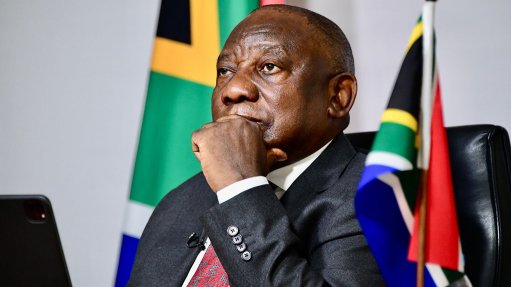 President Cyril Ramaphosa
Making headlines: Ramaphosa to make state visit to UK; ActionSA accuses DA of destabilising the Joburg coalition; And, Ramaphosa lauds success of Presidential Employment Stimulus as it reaches milestone
Ramaphosa to make state visit to UK
South African President Cyril Ramaphosa will make a state visit to Britain, the first such visit since King Charles succeeded his late mother Queen Elizabeth last month.
Ramaphosa and his wife, Tshepo Motsepe, have accepted an invitation from the new British monarch for the November 22 to 24 state visit.
Former South African presidents Nelson Mandela, Thabo Mbeki and Jacob Zuma all made state visits to Britain.
Britain exported £4-billion pounds of goods and services to South Africa in 2021 and its imports from the country were worth about £8-billion, according to British data. Britain is South Africa's fourth-biggest export market.
ActionSA accuses DA of destabilising the Joburg coalition
ActionSA Gauteng Chairperson Bongani Baloyi has accused the Democratic Alliance of destabilising the coalition in the City of Johannesburg "in the interest of power and position".
ActionSA briefed the media following the collapse of the multi-party government in the municipality.
The Democratic Alliance's Mpho Phalatse was voted out as City of Johannesburg mayor in a motion of no-confidence against her last week.
The African National Congress's Dada Morero was voted in as the new mayor.
Baloyi announced that there is no coalition arrangement in the City of Johannesburg moving forward and added that his party has accepted the "new reality" that they are now an opposition party.
And, Ramaphosa lauds success of Presidential Employment Stimulus as it reaches milestone
As the Presidential Employment Stimulus reaches a milestone of one-million participants, President Cyril Ramaphosa assured that government will continue to build on the success of the programme and expand its reach.
The Presidential Employment Stimulus was launched less than two years ago as part of government's economic recovery plan during the Covid-19 pandemic.
Many South Africans lost their jobs as a result of the pandemic and the programme was created in response.
In his weekly newsletter to the nation, Ramaphosa attributed the achievement to a collaborative effort between government, the private sector, community-based organisations and others.
He said government will continue to build on the success of the Presidential Employment Stimulus and expand its reach as it is still needed to complement recovery of the job market.
That's a roundup of news making headlines today
Don't forget to follow us on Twitter [@Polity ZA]