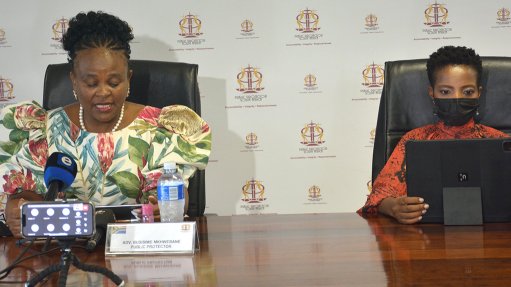 Busisiwe Mkhwebane
For Creamer Media in Johannesburg, I'm Halima Frost.
Making headlines: Ramaphosa says key energy plan will be developed in a year's time, parliament starts moving towards choosing Mkhwebane's successor and, Sudan conflict deals new blow to stagnant economy
Ramaphosa says key energy plan will be developed in a year's time
President Cyril Ramaphosa has issued a gazette indicating a key section in law - which will allow the long-awaited Integrated Energy Plan to be developed - will come into effect.
This comes after civil society groups lodged a legal application to compel him to do so.
This section allows for the development of an Integrated Energy Plan, to be overseen by Mineral Resources and Energy Minister Gwede Mantashe.
Since the National Energy Act was first assented to in 2008, section 6 still had not been brought into operation.
In a joint statement, the organisations indicated that they were notified by the State Attorney that the president would bring section 6 into operation, but from 1 April 2024. Last week, Ramaphosa also published a government gazette making it clear that section 6 would be brought into operation.
While this is a breakthrough for them, the organisations are concerned that it will take a year before the section will be effective.
Parliament starts moving towards choosing Mkhwebane's successor
The beleaguered Busisiwe Mkhwebane's term of office ends in October, and at Thursday's meeting of the National Assembly Programming Committee, it became a matter of urgency to select her successor in a truncated parliamentary calendar.
House chairperson Cedric Frolick, also known as the chair of chairs, informed the NAPC that the Chief Whips Forum had met yesterday to discuss the process for the selection of a new Public Protector.
Two proposals are on the table: an ad hoc committee consisting of 11 members, or an ad hoc committee consisting of 11 voting members and 14 non-voting members.
Frolick said the whips had asked to discuss it with their party leaders, and report back by 25 May.
Sudan conflict deals new blow to stagnant economy
The conflict shaking Sudan has dealt a crippling blow to the heart of the country's economy in the capital Khartoum, as well as disrupting internal trade routes, threatening imports and triggering a cash crunch.
Across swathes of the capital factories, banks, shops and markets have been looted or damaged, power and water supplies have been failing, and residents have reported steep price rises and shortages of basic goods.
Even before the fighting between military factions broke out on April 15 Sudan's economy had been in deep stagnation.
Tens of thousands have now fled the violence in Khartoum and its sister cities of Bahri and Omdurman, while millions more have sheltered at home as shelling and air strikes rattle across neighbourhoods.
That's a roundup of news making headlines today
Don't forget to follow us on Twitter [@PolityZA]