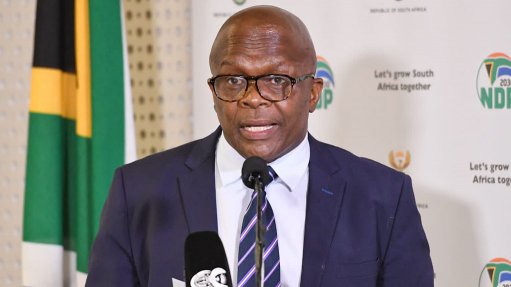 Minister in the Presidency Mondli Gungubele
For Creamer Media in Johannesburg, I'm Thabi Madiba.
Making headlines:; Comair to be liquidated; Gungubele says there is no guarantee the Guptas will be extradited to SA; And, UJ ranks second on the continent and in S Africa
Comair to be liquidated
Comair's business rescue practitioners have lodged a court application to convert the business rescue proceedings into liquidation proceedings, as the company could not raise the necessary funding to continue with operations.
In a notice the business rescue practitioners advised creditors that they no longer believe there is a reasonable prospect that the company can be rescued.
The business rescue practitioners tasked the owner, the Comair Rescue Consortium, to come up with a practical plan for continued operations by May 31.
This included raising additional funding "to settle all financial obligations" and to negotiate with lenders about arrears amounts.
When this did not happen, the business rescue practitioners suspended all Comair's kulula.com and British Airways (operated by Comair) flights on 1 June.
Employees and customers who held bookings or were owed refunds will now become creditors of the company.
Gungubele says there is no guarantee the Guptas will be extradited to SA
Minister in the Presidency Mondli Gungubele said there is no guarantee that Atul and Rajesh Gupta will be brought to South Africa following their arrest in the United Arab Emirates.
Gungubele briefed the media on the outcomes of yesterday's Cabinet meeting.
Gungubele explained while negotiations between the UAE and South Africa were under way, until they were concluded, the South African government did not know whether the Gupta brothers would be extradited to face charges.
The brothers fled South Africa to Dubai following Jacob Zuma's recall as President in 2018. The government has said at least R500-billion was stolen during Zuma's nine-year presidency.
The kingpins behind State capture during Zuma's Presidency were arrested as a result of an Interpol Red Notice issued at the request of the South African government earlier this year.
And, UJ ranks second on the continent and in S Africa
The latest QS World University Rankings have boosted the University of Johannesburg's standing in South Africa and on the African continent.
According to the latest figures, UJ now ranks second in South Africa and in Africa, climbing up one position.
UJ Vice-Chancellor and Principal Professor Tshilidzi Marwala said the achievement was "tremendous" as UJ went up against 2 462 academic institutions.
Globally, UJ ranks 412, up from 434 last year.
The QS World University Rankings account for global academic and employer reputation, research output, quality of research, internationalisation, teaching and learning.
That's a roundup of news making headlines today
Don't forget to follow us on Twitter [@Polity ZA]