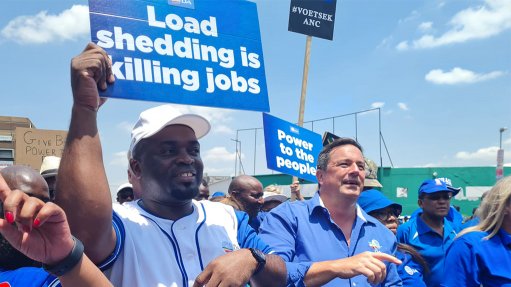 DA leader John Steenhuisen with DA Leader in Gauteng Solly Msimanga at the party's Power To The People march in Johannesburg
Photo by: Supplied
For Creamer Media in Johannesburg, I'm Sane Dhlamini.
Making headlines: Steenhuisen touts ANC-shedding, ActionSA, DA at odds ahead of motion of no confidence in Joburg Mayor Phalatse and, Eskom asks Cogta to intervene as Tshwane's electricity debt balloons to R1.4bn
Steenhuisen touts ANC-shedding
Opposition party leader John Steenhuisen said that a vote for the DA could ensure that power is reclaimed from the ruling ANC, who he blames for the country's current energy crisis.
Addressing his supporters in the vicinity of Luthuli House during the DA's Power To The People march, Steenhuisen reiterated that the root cause of where the country is stems from the energy deals that were struck at Luthuli House, as calls for President Cyril Ramaphosa to get rid of Gwede Mantashe gain momentum.
He went on to criticise Public Works Minister Patricia de Lille for spending hundreds of thousands of rands worth of free diesel to run free generators, allegedly provided to all cabinet ministers, instead of making sure that places like the hospitals and old age homes have power.
Steenhuisen called on South Africans to make a change at the election polls in 2024 for a prosperous country.
He said, "If we want to end loadshedding, we have to start ANC-shedding."
DA at odds ahead of motion of no confidence in Joburg Mayor Phalatse
With another motion of no confidence in Johannesburg Mayor Mpho Phalatse looming, the turmoil in the governing coalition continues, with ActionSA blaming the Democratic Alliance's federal executive committee for scuppering a deal with the Patriotic Alliance, and the DA accusing ActionSA of acting in bad faith.
This bickering between the two biggest partners in the coalition comes against the backdrop of the third attempt to remove Phalatse after the African Transformation Movement, Al Jamah-ah and the African Independent Congress brought motions last week, which will be heard on Thursday.
It set in motion negotiations between the parties to restore most of the original coalition, which would mean that the Patriotic Alliance would have to be brought back into the fold.
ActionSA national chairperson Michael Beaumont said that the PA accepted a deal that would have restored the Johannesburg coalition, keeping the African National Congress out of Johannesburg and "most likely, the EFF out in Ekurhuleni".
Eskom asks Cogta to intervene as Tshwane's electricity debt balloons to R1.4bn
Eskom has asked the department of cooperative governance & traditional affairs to intervene as the City of Tshwane's electricity debt has ballooned to R1.4-billion.
Eskom said as of today, the city's debt had compounded to "a bulky R1.4-billion" due to its "short payment and non-payments spanning several months in the recent past".
A spokesperson for the utility in Gauteng said this is "negatively impacting the liquidity, financial performance and sustainability of Eskom.
The city short-paid its November 2022 bill of R660-million and also failed to pay its December 2022 account of R780-million.
That's a roundup of news making headlines today
Don't forget to follow us on Twitter [@PolityZA]