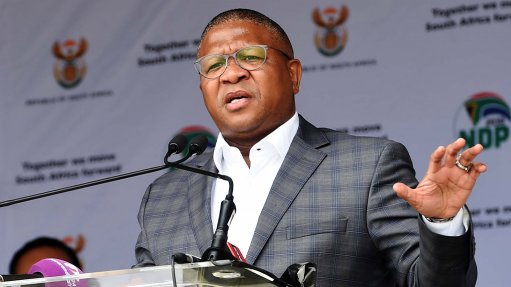 Transport Minister Fikile Mbalula
For Creamer Media in Johannesburg, I'm Sane Dhlamini.
Making headlines: Mbalula hopes to launch digital driving licence renewal system in February, Public Protector probes state of higher education sector and, 29-million vaccine doses administered in SA
Mbalula hopes to launch digital driving licence renewal system in February
The government says it intends to fix the controversial and unreliable driver's licence system by going digital.
Transport Minister Fikile Mbalula has assured motorists that his department will soon launch a new digital licence renewal system.
The department faces a huge backlog of drivers waiting for their new driving licences.
Last week, Mbalula said the outdated machine used to print new licences was broken and added that it was undergoing repairs in Germany.
Mbalula promised that motorists are able to access services in the comfort of their homes.
Public Protector probes state of higher education sector
Public Protector Busisiwe Mkhwebane South Africa has embarked on a probe into the higher education sector.
The alternative dispute resolution meetings started yesterday and forms part of an own-initiative investigation into the state of affairs in the sector.
Her spokesperson Oupa Segalwe said the need to address problems troubling institutions of higher learning as characterised by mass protests at the beginning of each academic year triggered the investigation.
A team of investigators, led by Mkhwebane and Deputy Public Protector Kholeka Gcaleka, met separately with representatives of the South African Union of Students, Universities South Africa, Department of Public Service and Administration, and the police.
29-million vaccine doses administered in SA
More than 29-million Covid-19 vaccine doses have been administered in South Africa.
Of those, 85 885 were administered yesterday.
South Africa recorded 3 658 new confirmed Covid-19 infections yesterday.
To date, 16-million adults are fully vaccinated.
Among children aged 12 and older, over 1-million vaccine doses have been administered.
That's a roundup of news making headlines today
Don't forget to follow us on Twitter [@PolityZA]