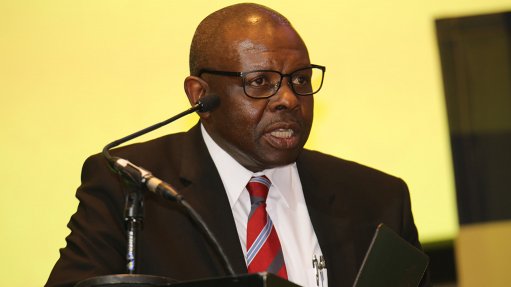 Suspended Western Cape Judge President John Hlophe
For Creamer Media in Johannesburg, I'm Halima Frost
Making headlines: Ramaphosa suspends Western Cape Judge President John Hlophe, voting for ANC's top six positions to take place over two days and, inflation cools slightly in November, but food prices continue to climb
Ramaphosa suspends Western Cape Judge President John Hlophe
President Cyril Ramaphosa has suspended Western Cape Judge President John Hlophe from his duties pending a decision of the National Assembly.
His suspension comes into effect immediately.
The Presidency in a statement said the decision was based on advice from the Judicial Service Commission.
It said to ensure continuity and stability in the work of the divisional high court, the suspension is on condition that Hlophe completes all part-heard matters and reserved judgments.
Voting for ANC's top six positions to take place over two days
The voting process for the African National Congress's top six positions will take place over two days according to a draft programme for the ANC's national elective conference, which is set to start on Friday.
Additional nominations for the positions of president, national chairperson, secretary general, and treasurer general will, according to the draft programme, commence at 22:00, with the voting process set to soon after this.
For the position of president, incumbent Cyril Ramaphosa and former health minister Zweli Mkhize made the cut to be on the ballot.
The announcement of who made it to the top positions will be made on Saturday, at 10pm.
Inflation cools slightly in November, but food prices continue to climb
Consumer price inflation cooled slightly in November to 7.4%, from 7.6% in October.
But food prices continue to climb – reaching 12.5% in November from 12.0% in October. Bread and cereal prices were 19.9% higher in November than a year ago, according to Statistics SA.
Overall, the monthly change in the consumer price index was 0.3% in November, slightly lower than the 0,4% recorded in October. Annual inflation hit a 13-year high of 7.8% in July.
The Reserve Bank only expects inflation to "sustainably" move back to its targeted level of 4.5% by the second quarter of 2024.
That's a roundup of news making headlines today
Don't forget to follow us on Twitter [@PolityZA]