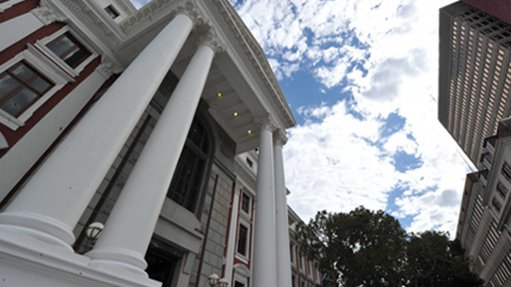 Photo by: GovtZA
Making headlines: Opposition rejects DA's call to dissolve Parliament; Kenya election final results expected today; And, Mugabe's nephew hits out at 'charlatan' VP Mnangagwa
For Creamer Media in Johannesburg, I'm Thabi Madiba.
Opposition rejects DA's call to dissolve Parliament
The DA has accelerated calls for Parliament's dissolution, an idea which some of its opposition partners have rejected.
The party tabled a motion yesterday, to be voted on at the earliest opportunity. It claimed the ANC no longer enjoyed the support of the majority of South Africans, and early elections must be held.
DA leader Mmusi Maimane's call for the dissolution of Parliament follows Tuesday's failed motion of no confidence in President Jacob Zuma via secret ballot.
UDM leader Bantu Holomisa said his party did not support the DA's proposal for dissolving Parliament, but respected its right to propose the motion.
Kenya election final results expected today
Results of Kenya's hotly contested presidential election between incumbent Uhuru Kenyatta and opposition leader Raila Odinga are expected to be announced today.
Odinga, the 72-year-old who leads the National Super Alliance has already placed a spanner in the works with his claims hackers have altered the results to give his younger rival Kenyatta, 55, and his Jubilee party the advantage.
With 99% of the ballots counted Kenyatta is way ahead. The son of the founding Kenya president, Jomo Kenyatta, has so far garnered about 54% of the votes compared to Odinga's 44.8%.
Odinga has dismissed the results so far as a "fraud".
And, Mugabe's nephew hits out at 'charlatan' VP Mnangagwa
President Robert Mugabe 's nephew Patrick Zhuwao has reportedly taken a im at Vice President Emmerson Mnangagwa, claiming that he is leading a group of "charlatans", who are not suitable to take over power from the veteran leader.
Zhuwao said this during a public dialogue themed the "Legacy of the heroes, challenges and opportunities for the youth", in Harare, this week.
According to New Zimbabwe.com, Zhuwao reiterated First Lady Grace Mugabe's calls for her ageing husband to anoint his successor.
To advertise on Polity email advertising@creamermedia.co.za
That's a roundup of news making headlines today