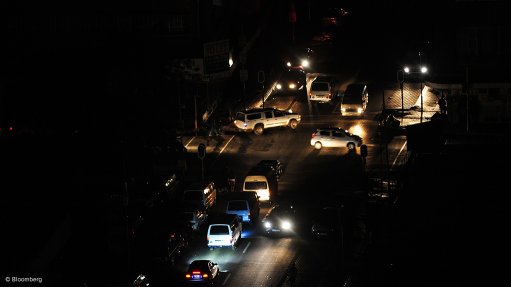 Photo by: Bloomberg
For Creamer Media in Johannesburg, I'm Sane Dhlamini.
Making headlines: Mogale city mayor removed, ANC mourns 'committed and fearless activist' Tiego Moseneke and, study confirms that loadshedding negatively impacting SA's emotions
Mogale city mayor removed
The Mogale City mayor in the West Rand of Johannesburg, Tyrone Gray from the Democratic Alliance, was removed from office through a motion of no confidence, on Thursday, from an alliance between the ANC and the Economic Freedom Fighters.
This follows a High Court decision which called for the reinstatement of the ANC and EFF councillors, who were unlawfully removed.
Also underway is the removal of the current Speaker of Council Jacqueline Pannal.
According to ANC Gauteng Provincial Secretary TK Nciza, his organisation has been clear from the onset, following the provincial conference, to reclaim lost ground.
ANC mourns 'committed and fearless activist' Tiego Moseneke
The ANC has hailed activist, lawyer and businessman Tiego Moseneke as a "committed and fearless activist" who sacrificed his life for the freedom of his people,.
The party joins many South Africans and the business fraternity in conveying its condolences to Moseneke's family, comrades and the broader democratic movement on his passing.
The former Deputy Chief Justice Dikgang Moseneke's younger brother died on Wednesday evening following a car accident.
The ANC says it will remember Tiego as a fearless and uncompromising president of the Azanian Students Organisation, an affiliate of the United Democratic Front and a predecessor of the South African National Student Congress.
Study confirms that loadshedding negatively impacting SA's emotions
The University of Johannesburg's Professor Talita Greyling, a wellbeing economist, has looked at the crisis of loadshedding and has provided statistics to investigate how the continuous blackouts impact South Africans' emotions.
She found that the emotions anger, disgust, fear and sadness almost doubled for the period from April 13 to 16 this year, compared with the same period in 2022.
During the period under review, South Africans were faced with Stage 6 loadshedding and rumours that the country could soon face Stage 10 loadshedding.
Greyling added that people are fearful of losing their jobs and a lack of quality education as children severely suffer from not having access to essential services such as light to study.
That's a roundup of news making headlines today
Don't forget to follow us on Twitter [@PolityZA]