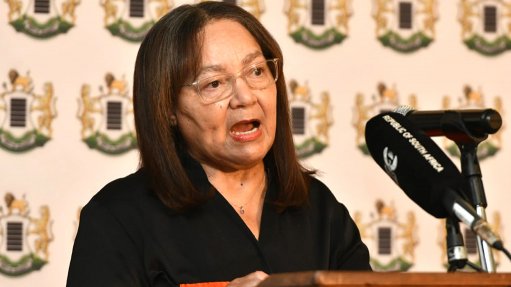 Tourism Minister Patricia de Lille
For Creamer Media in Johannesburg, I'm Halima Frost.
Making headlines: Electricity Minister says South Africa should not shy away from costs of fixing power crisis, ANC reaffirms advisory role of elders and, De Lille asks SA Tourism board why it should not be dissolved
Electricity Minister says South Africa should not shy away from costs of fixing power crisis
Minister of Electricity Kgosientsho Ramokgopa says South Africa should not shy away from spending to fix the country's power crisis ahead of a cabinet decision later this month on his proposals to end the worst power blackouts on record.
Ramokgopa, who was appointed last month to the newly created role, was speaking in an interview less than two months after the National Treasury granted state utility Eskom R254-billion of debt relief over the next three years.
President Cyril Ramaphosa's government has made repeated attempts to improve power availability but failed to make progress.
His appointment is the latest effort to make a breakthrough before national elections next year at which the ANC faces the prospect of losing its parliamentary majority for the first time since the end of apartheid.
ANC reaffirms advisory role of elders
The ANC has reaffirmed the party's commitment to organisational renewal, as well as the advisory role of elders as champions and ambassadors of the party's renewal agenda.
ANC national officials met with former President Thabo Mbeki following the much-publicised leaked letter that Mbeki addressed to the national officials in which he criticised the party's protection of President Cyril Ramaphosa in the Phala Phala saga.
The party said meeting with Mbeki over the contents of his letter reflected a "comradely and collegial spirit".
De Lille asks SA Tourism board why it should not be dissolved
Tourism Minister Patricia de Lille has given the SA Tourism board until next week to say why she should not dissolve it in the wake of "serious allegations" against its members.
She wrote the letter to board chairperson Thozamile Botha on April 6.
Department of Tourism spokesperson Zara Nicholson would not confirm if the letter was about the scrapped deal between SA Tourism and Tottenham Hotspur.
A source has divulged that among the reasons cited for the possible dissolution of the board were the R900-million proposed deal, the irregular appointment of Botha and three board members, and sexual harassment allegations against two board members.

That's a roundup of news making headlines today
Don't forget to follow us on Twitter [@PolityZA]