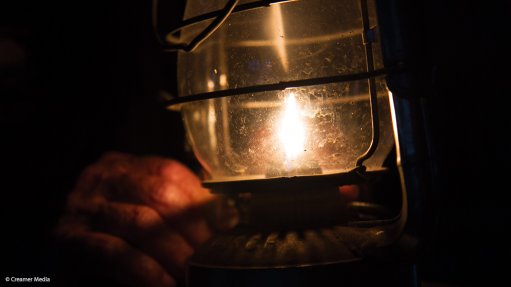 Photo by: Creamer Media
For Creamer Media in Johannesburg, I'm Halima Frost.
Making headlines: Stage 2 load-shedding to resume at 17:00, UN in SA says attacks on foreigners 'deeply worrisome and unfortunate' and, Jacob Zuma Foundation hopeful doctors will allow him to spend time with family
Stage 2 load-shedding to resume at 17:00
State-owned power utility Eskom said that Stage 2 load-shedding will resume at 5pm today and will again be suspended at 5am on Wednesday owing to the continued shortage of generation capacity.
Eskom says the constrained supply situation will persist throughout the week, with the possibility that more load-shedding is likely to be implemented should the generation capacity deteriorate further.
Three generating units at the Camden Power Station tripped during the night, contributing to the current shortage of capacity but Eskom says its teams are working hard to return as many of these units to service as possible.
Eskom currently has 4 804 megawatt of planned maintenance, while another 14 449 megawatt of capacity is unavailable owing to unplanned breakdowns.
UN in SA says attacks on foreigners 'deeply worrisome and unfortunate'
The United Nations in South Africa expressed "grave concerns" about violent attacks on foreign nationals after a Zimbabwean man, Elvis Nyathi, was assaulted and set alight in Diepsloot last week.
Acting resident coordinator and head of the United Nations in South Africa, Ayodele Odusola, said he noted with "great concern" the ongoing incidents of violence, intimidation and harassment against foreign nationals.
Odusola added that it is deeply worrisome and unfortunate that this is happening in a country with one of the most inclusive constitutions globally.
He added that the human rights of all persons residing in South Africa, regardless of their nationality or immigration status, must be respected.
Jacob Zuma Foundation hopeful doctors will allow him to spend time with family
The Jacob Zuma Foundation is hopeful that, despite the former president's ill health, doctors will allow hm some time to spend at home with his family.
Jacob Zuma turned 80 today and, due to his ill health, was unable to attend the first day of his corruption trial in the KwaZulu-Natal High Court in Pietermaritzburg on Monday.
On Monday, foundation spokesperson Mzwanele Manyi told journalists that Zuma's medical condition had worsened, resulting in him being unable to attend court proceedings in person.
Zuma, however, waived his right to be in court so the judge could continue hearing his postponement application.
Zuma was advised by his doctors not to attend Monday's court proceeding at the KwaZulu-Natal High Court in Pietermaritzburg where he is facing charges of corruption.
During Monday's proceedings, Judge Piet Koen granted Zuma's application for his criminal trial to be postponed.

That's a roundup of news making headlines today
Don't forget to follow us on Twitter [@PolityZA]