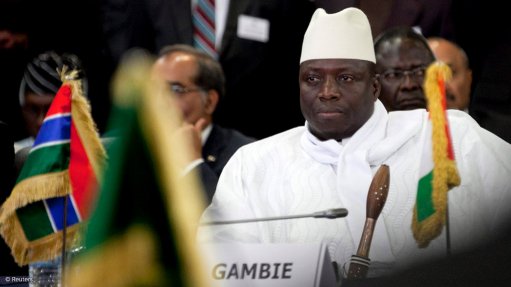 Former Gambian President Yahya Jammeh
Photo by: Reuters
January,23 2017.
For Creamer Media in Johannesburg, I'm Thabi Madiba.
Making headlines:
Negotiations continuing between Wits SRC, government and management
Jammeh loots Gambian state coffers prior to evacuation
And, Mpumalanga residents damage IEC bakkie, disrupt by-election voter registration

The University of the Witwatersrand SRC says that despite a number of challenges, it is negotiating with government and management to have financially disadvantaged students register at the institution.
The SRC on yesterday issued a statement on the status of negotiations saying their core challenge was getting the state to allow the university to register students, without violating the credit act.
According to the SRC, the university's report of a meeting with the department of higher education and training states that government "have done all they could" with the concessions that are already on the table for National Student Financial Aid Scheme students.
After the dramatic departure of Yahya Jammeh, the former president of The Gambia, following the military intervention of a military force from the Economic Community of West African States it has been reported that he looted the state's coffers prior to his forced evacuation.
More than $11-million dollars are missing, advisor to President-elect Adama Barrow, Mai Ahmad Fatty stated, and added that financial experts were busy evaluating the exact loss.
A crowd of about 100 people opposed to an upcoming by-election disrupted IEC officials from registering voters and damaged an IEC bakkie in a rural Mpumalanga village yesterday.
IEC provincial electoral officer Steven Ngwenya said the by-election would be held on March 8 following a court ruling which set aside the election of ward 11 African National Congress councillor Charlie Skhosana, who was elected during the August 3 municipal elections last year.
He said the Electoral Court made the ruling after defeated independent candidate Lucas Mahlangu launched civil proceedings challenging the election result.

Don't forget to follow us on twitter @polityZA
That's a roundup of news making headlines today