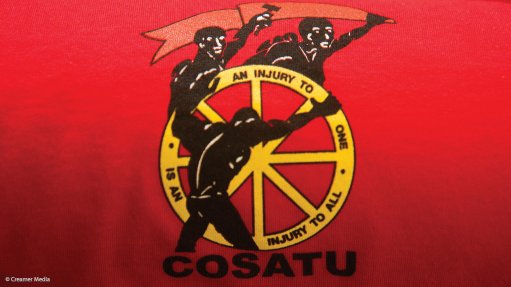 For Creamer Media in Johannesburg, I'm Sane Dhlamini.
Making headlines: Sassa to start paying grants through Postbank in February, Cosatu hopes freezing of assets and commission is 'beginning of end' of Gupta patronage network And, City's water reports to DA 'irregular' and 'contradictory'
Sassa to start paying grants through Postbank in February
The South African Social Security Agency will for the first time make electronic payments to about two-million social grant beneficiaries through its new corporate Postbank account on February 1, instead of using Grindrod Bank, GroundUp reports.
Postbank is the banking division of the Post Office, which signed a deal with Sassa last year to pay social grants from April 1, this year.
The Post Office will assist Sassa with the management of social grants, including electronic payments, but not cash payments.
In its latest report to the court, filed on 8 January, Sassa said it had successfully paid a sample group of 98 beneficiaries through its Postbank account in January.
Cosatu hopes freezing of assets and commission is 'beginning of end' of Gupta patronage network
Cosatu said yesterday that it hoped that freezing the assets of Gupta-linked companies McKinsey and Trillian, combined with the Commission of Inquiry into State capture, would signify the "beginning of the end of the Gupta patronage network that has wreaked havoc on the country's economy".
In a statement the trade union federation said the endemic corruption needed to be cleaned up without fear or favour.
It went on to say that it was encouraged by the ANC national executive committee's firm commitment to the fight against corruption.
City's water reports to DA 'irregular' and 'contradictory'
Water updates or "reports" from the office of Cape Town Mayor Patricia de Lille to the DA have been "irregular" and "contradictory", the party's federal chairperson James Selfe said yesterday afternoon.
With an apparent 95 days to go until the city reaches Day Zero, Selfe's comments cast doubt over the reliability of City's drought crisis communication and the progress made in its water augmentation schemes.
In a telephonic interview with News24, Selfe said the reports which they have received were difficult to understand and seemingly, in places, contradictory.

Also making headlines:
Corruption Watch yesterday said it was not confident that "robust and competent" criminal proceedings would be launched against individuals implicated in the "wholesale looting of public resources" while the National Prosecuting Authority was led by Shaun Abrahams.
That's a roundup of news making headlines today
For a news update each morning, register for Polity's free daily newsletter