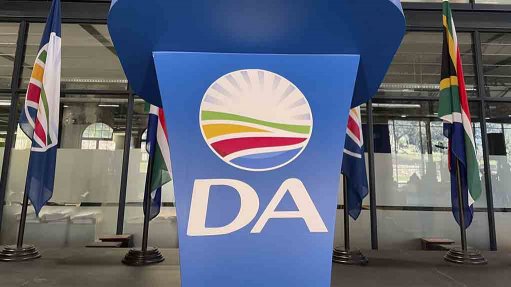 DA logo
Given South Africa's history of human rights abuses and the growing international awareness of human rights, I strongly doubt that there are any amongst us who do not agree on the importance of human rights which serve to ensure that people have their basic needs met; vulnerable groups are protected from abuse; people are allowed to stand up to societal corruption; freedom of speech and expression are encouraged; people may practise the religion of their choosing; people may love who they choose; people have equal work opportunities and equal access to education, the environment is protected and governments are held accountable.
But why then, Hon. Speaker, do we find ourselves in a situation whereby there is an urgent need to address human rights violations in this world, in this country and even in this province rather than a desire to celebrate human rights?
As I speak, the lives of millions of civilians of Ukraine continue to be shattered. People are being slaughtered, the right to life relentlessly violated, as families are separated while Russia continues its attack and South Africa, a country that knows all too well the devastation of oppression and that fought so hard for human rights, now fails to take a stand against the human suffering caused by President Putin's war.
Hon. Speaker, don't think that we didn't notice the attendance of the Russian ambassador to the State of the Province address in Upington. The DA's Western Cape Premier has had the guts to bar the Russian embassy to legislature events, while this legislature had the gall to host the Russian ambassador on the very day that Russia invaded the sovereign state of Ukraine.
As South Africa sits on the fence, we have to ask whether South Africa has lost its soul?
As Desmond Tutu once said, "If you are neutral in situations of injustice, you have chosen the side of the oppressor."
By aiming for neutrality, South Africa is saying it's okay to be spineless, to appease those who are in the wrong for your own comfort and maybe even gain, and to turn your back on your values, while simultaneously giving power to unjustifiable systems.
Sadly, South Arica's fence-sitting has long ago already spilled over into society, where too many people choose to not get involved in injustices that occur under their noses and are content to rather look on as an old man gets mugged, as a house intended for a disabled grandmother gets allocated to a connected young cadre, or as an emerging farmer who has worked the land for years, gets denied title to the state-owned land he rightfully deserves.
On South African turf, we see a further move to curb the right to freedom of expression with the Censorship Act, that was recently snuck into law and has the power to restrict or disrupt what citizens can say and share online in a way that way oversteps the mark of dealing with instances of hate speech, incitement of violence or homophobic expressions.
Then there is the Employment Equity Amendment Bill, that has nothing to do with seeking to ensure that everyone is equal and treated equally but will instead only benefit a politically connected elite, further widening the country's growing inequality gap.
We see the harm caused by the illogical restrictions imposed under the guise of controlling the Covid-19 pandemic, that has, and in some instance still violates the right to movement, the right to earning a living, the right to education and more.
We see a situation whereby certain people can instigate racial hatred and even murder and its okay, where property rights continue be threatened and its okay.
We see a disturbing rise in xenophobic sentiments that tend to fuel actions that cause human rights violations.
Hon. Speaker, year by year South Africa, once lauded for its progressive stance on human rights is expressing a rollback of human rights and coming closer to joining countries at the bottom of the spectrum where, in the words of Amnesty International: "Leaders have pushed hate, fought against rights, ignored crimes against humanity and blithely let inequality and suffering spin out of control."
Hon. Speaker, to some degree we even see this in our own province.
In his SOPA debate, the DA's provincial leader mentioned the continued housing of state patients in prison, instead of in hospital. Keeping psychiatric patients in jails is globally regarded as a gross human rights violation and is specifically stated by the World Health Organisation as a practice that should be abandoned. Yet knowing this full well, government allows that practise to continue year after year.
On Friday, we read of an incident whereby two prisoners who are members of the LGBTQI community were allegedly intimidated and assaulted by inmates and prison warders. This is in spite of the rights to freedom and security that indicates that no one should be tortured in any way or be treated or punished in a cruel, inhuman or degrading way.
Our high crime rates and the country's poor policing system, that is highly understaffed, under resourced and under-equipped further aggravates the right to be free from all forms of violence.
Where is safety when Gender-based violence runs rampant? People are not even safe in their homes and victims experience secondary victimization because the police do not prioritise services available in Victim Friendly Facilities, and the health department doesn't prioritise medical forensic services, with victims often being shunted around from facility to facility to enable them to get medically treated by a suitably qualified health professional.
We notice a rise in human trafficking. Late last year the case of the Ayuk brothers, who lured as many as seven girls from Springbok to Brooklyn, on a guise of employment, went to court. Earlier last year, a man suspected of involvement in an Upington-based human trafficking syndicate was arrested for allegedly luring young women and forcing them to engage in sex work. This is in direct violation of a person's right to choose who to work for and what kind of paid work they prefer to do. No-one can be forced to work for someone else. This is a form of modern-day slavery and sexual exploitation. This is another gross human rights violation that requires a greater clamp down on crime syndicates, that makes our poor people even more vulnerable.
There are other forms of human rights violations too, some that even come about by politics.
Hon. Speaker, every citizen has the right to participate in the activities of a political party of their choice and affiliate themselves with such. Yet, we have seen time and time again that those who refuse to align themselves with the ruling party, often get refused entry to community projects. The Expanded Public Works Programme is not meant to be abused as a political tool, it is there to help create opportunities for the poorest of the poor. Abusing the system in a bid to win and cling onto support is unethical. At the same time, refusing people EPWP opportunities based on whose membership card they carry, is a violation of their political rights.
Then there is the violation of children's right to education. In November last year, the education department announced that 9400 children from schools around the Northern Cape had dropped put. What were the circumstances that unfairly pushed them out of education? There are many.
We currently face a situation where nine schools that collectively owed Emthanjeni municipality millions of rands in outstanding debt are facing electricity disconnections. The children of Veritas Secondary School already had days without power, depriving them of learning. These are things that should not be allowed to happen – between the Education Department, COGHSTA, the municipality and the schools, we need communication, deliberations and solutions to enable due debt to be paid and the lights to stay on. The learners who remain in the system cannot afford to lose more time, after Covid already swallowed two-years of proper schooling.
Hon. Speaker, we could further have an entire debate on how people's right to health care is violated in the Northern Cape. Just last week, we learned of a disturbing case in Gariep whereby a baby that had been healthy up until recently, tested HIV positive after the baby's mother was unable to get the baby's HIV-preventative syrup from the mobile clinic for a prolonged period of time. Other babies in the same town, cant get their six-month injections because the mobile clinic is not operating.
The greater tragedy is that such serious violations in respect of health care are not just happening in Gariep – they are happening all over the province. People go blind because they cannot get their eyes operated on in time, because of the limited theatre space that most of the time is accommodating life or death cases. People die because patient transport cannot get them from Springbok to Kimberley in time for life-saving treatment.
And what about the rights of people to have their basic needs met?
Water challenges have engulfed the entire province. The Human Rights Commissions is swamped with complaints regarding lack of access to water that it is investigating from Sol Plaatje all the way up to Hondeklipbay.
The right to human dignity is also severely compromised. People still live in reed huts and use the veld for a toilet. And there are just as many sewerage complaints whereby people live with sewerage on their doorsteps due to unmaintained sewerage systems that were not upgraded.
Hon. Speaker, as a once a proud South African, I am heartbroken by what this precious country has become because aside from the black and white text in the Constitution and the Human Rights Charter, it doesn't even feel as if human rights exist anymore.
If government really cares about human rights, it needs to do far more to uphold these rights instead of being the root cause of the many human rights violations faced by our people.
It is time to put people first and reignite a deep sense of care for the people of the Northern Cape. It's time to restore faith in humanity.