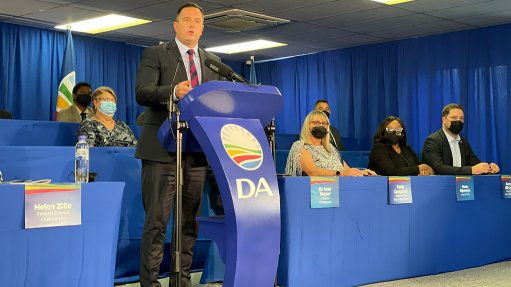 DA leader John Steenhuisen
Democratic Alliance (DA) leader John Steenhuisen said on Friday DA mayors have to focus on strengthening workable coalitions in the country's vulnerable metros and municipalities, assuring co-governing parties that the DA will foster a productive and mutually respectful environment.
The November 1 local government elections, which were a huge disappointment for the African National Congress, saw the installation of DA mayors in uMngeni, in KwaZulu-Natal; in Ekurhuleni, in Gauteng; and in the Beyers Naude municipality in the Eastern Cape, among others.
He said mayors must draw up a short-term plan for urgent service delivery and obtain a detailed picture of the municipality – from its financial status, debt and income to its infrastructure backlog, service delivery arrears and current projects.
Addressing the media at the party's headquarters in Johannesburg, Steenhuisen said the party was mindful of the enormous challenge that lay ahead for its mayors, particularly in the hung metros and municipalities where the party was going to have to quickly establish good working relationships with its new co-governing parties.
"I also want to assure our co-governing parties that we will do all we can to foster a productive and mutually respectful environment. We owe it to the millions of residents in these cities and towns, and to every voter who made it possible to remove the ANC there, to prove that multi-party democracy works for them," he said.
He stated that given the country's enormous challenges, the party simply could not afford to indulge a government that "lives in the past and clings to its fading history". That will not solve the country's problems, he added.
He pointed out that the DA's talks with other parties that have not signed coalition agreements were still ongoing.
"We are reaching out to these parties as we try to establish majority coalitions in these hung councils. This will be critical if we want to create stable governments that are able to best serve residents," he said.
Steenhuisen pointed out that this year's local government election had been a watershed moment in the country's history as a democracy. .
He said the days of operating in political silos were over, and added that the sooner the party identified its allies, the better off everyone would be.
"You will find these allies all around you. They might sit in the council chamber under the banner of a different party, but many of them want to see the same improvements to people's lives as you do. We have to find ways to still remain firm and true to our principles, while building and maintaining bridges with council colleagues from other parties. Nowhere is this more important than in the minority governments - and particularly the Gauteng metros - where we are going to have to write a whole new chapter on selfless and cooperative public service," he said particularly to the DA mayors present at the briefing.
He said mayors would also find allies outside of politics, and noted that cooperation with them was no less important.
"Reach out to NGOs, to civil society, to churches and to educators. Pay attention to groups and individuals who approach you with suggestions - be open to ideas," Steenhuisen urged his mayors.