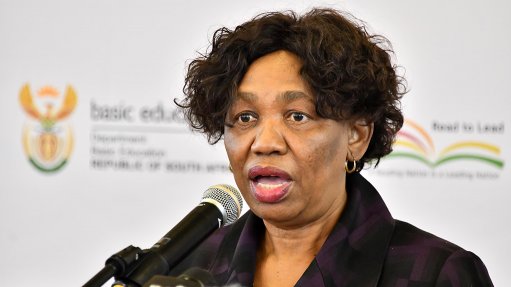 Basic Education Minister Angie Motshekga
Democratic Alliance (DA) Shadow Minister for Basic Education Baxolile Nodada has said that Basic Education Minister Angie Motshekga has overseen a regression in the education system over 14 years, following the release of the Progress in International Reading Literacy Study (PIRLS) which revealed that 81% of Grade 4 learners in South Africa cannot read for meaning.
Speaking to Polity in an exclusive interview, Nodada said Motshekga was not innovative and called for her to appear before Parliament with her director-general Hubert Mathanzima Mweli to present a catchup plan with clear timelines so that role-players could be held accountable.
However, Nodada said he had no hope that the department would be able to turn the situation around.
Nodada said Motshekga should have left office a long time ago as the department was grasping at straws in many programmes.
He said education infrastructure was crumbling and children were hungry in schools.
"As we speak today children are doomed before they begin as eight out of 10 children can't read for meaning, including 56% of Grade 6 pupils. The matric results are poor every single year in terms of quality. What is more important to this department every single year is quantity over quality. Ultimately, she should have gone a long time ago. She is absolutely useless. Our children, particularly in rural poor communities, are regressing every single day. In this country if you have money you are bound to get a better education, if not you are doomed," Nodada expressed.
He accused government of forcing learners to attend a "bad public school".
Discussing the recent matter of almost 30 000 learners in KwaZulu-Natal and over 4 000 pupils in the Eastern Cape going hungry under the National School Nutrition Programme, he pointed out that those children depended on that one meal a day.
He said many of those children's parents lived under the poverty line and were dependent on grants.
Nodada said school meals were an incentive for some children to go to school every day.
He called for a full school audit of the National School Nutrition Programmes in all provinces, which he said would also help ascertain if there was a possibility of providing learners with breakfast and lunch, as the programme was supposed to ultimately expand to two meals a day to incentivise children that come from poor households to keep them at school.
Nodada explained to Polity that the full audit would also ensure that other programmes were not in jeopardy.
The Special Investigating Unit, National Treasury, the Presidency and the Auditor General are investigating the issue in KwaZulu-Natal.
"We must get timelines and outcomes on which heads will roll for those that make a mess-up like the chaos that left children hungry. There is also an indication that somebody who is very close to an official may have benefitted from that tender. Those people that are trying to steal money meant for poor hungry children must be held accountable [and be brought] to book and we must see consequences [including] for the similar case that left over 4 000 children hungry in the Eastern Cape. Heads must roll," Nodada stated.
On the issue of scholar transport, Nodada said in 2020 there were about 121 000 children that were eligible for transport in KwaZulu-Natal. He said the number had since increased.
"Nineteen per cent of learners that qualify for scholar transport are not provided for in KZN while 33% of learners with special needs are also not provided with scholar transport."
He suggested that the service should be moved to another department.
Nodada added that those children join the statistics of youth not in education, employment or training owing to government failures.